Fit Mom Uses CrossFit Studio For Her Stunning Maternity Shoot
by Sarah Hosseini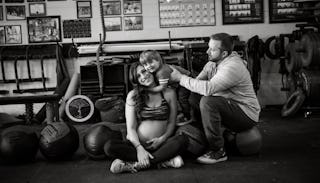 Image via JoAnn Marrero
Pregnant mom slays in CrossFit-themed maternity photo shoot
When you think of maternity photos, you probably imagine an ethereal-looking pregnant lady clad in a flowy dress with flawless makeup, cradling her swollen belly. That's all well and good, but one mom is showing us there are other ways to document your pregnancy, and hers happens to be pretty badass.
Lauren Ferris, a 29-year-old Connecticut mom, flipped the script on the typical maternity photo shoot. She was photographed at the CrossFit studio where both she and her husband work out; weight bars, medicine balls, beautiful belly and all. The results are both stunning and inspiring.
At 35 weeks along, Ferris says she still works out four to five times a week.
"Crossfitting keeps me active and helps to give me energy. Doing exercises like deep squats helps to prepare my body for labor and birth and increases pelvic floor muscles. We do a lot of squats at CrossFit!" Ferris tells Scary Mommy.
Her husband and two-year old son Connor also got in on the action. She tells People that her son often comes with her to the gym. "He usually comes with me two times a week, and he loves being at the gym just as much as I do. It's kind of a family thing."
Ferris enjoys working out, but it's clear she understands how pregnancy can sometimes limit her abilities.
"While pregnant, my only goal is to listen to my body and do what feels right, and get to the gym as often as I can. I'm not trying to max out any weights or lift anything very heavy, I'm just looking to maintain and stay in shape," Ferris says.
Ferris did CrossFit with her first pregnancy as well and attributes her great first birth experience to staying fit. CrossFit is a big part of her life and so it's very fitting (pun intended) that she used the gym as a backdrop for her shoot. Ferris hooked up with photographer JoAnn Marrero, who said she really wanted to capture Lauren in a setting that was unique to her.
"I wanted to capture Lauren's personality and her lifestyle," Marrero tells People. "She and her family live a healthy, fit life, and she loves going to CrossFit. I want other people to see the raw beauty in being pregnant and how helpful it is to stay in shape not only for wellness, but for stress relief, shorter labor times, easier pushing, emotional wellness during childbirth and a much quicker recovery."
Lauren confesses that sometimes she doesn't feel like working out, but ultimately, exercise is what keeps her going.
"I could be having a day where I just don't feel great, and I want to go home and lay on the couch, but once I get to the gym I get a great workout in which makes me feel so much better!"
You know what kept me going during both of my pregnancies? Balancing a bucket of fried chicken on my belly and binge-watching mindless television. I imagine that would've made for an epic lifestyle maternity photo shoot. While I admittedly can't share the same enthusiasm for working out as this fit mom, I certainly respect it. We all have different ways of feeling great, being healthy, and doing what our body allows.
"I would tell other moms that if they are up to it and it's approved by their provider, exercising is an amazing thing to do not only for mom's health, but for baby's health as well. Even something as simple as walking is great!" Ferris says.
However moms handle pregnancy, whether it's Netflix and the couch or the gym and protein shakes, should be celebrated. And this is exactly what Ferris' photo shoot reminds us to do. And heck, if your pregnant lifestyle helps you maintain the figure you want, you go girl.
Ferris says, "You're growing a small human inside of you, so why not stay in great shape while pregnant?"
We salute her, and all moms for their different versions of strength!
This article was originally published on