Mom's Brilliant "Five Minute Rule" Promotes Honesty & Communication In Kids
"It guaranteed no explosive, over-the-top conversations."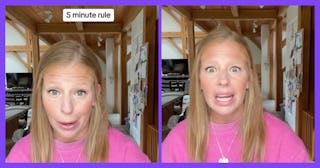 @thefamilybehaviorist / TikTok
The first time your kid lies to you, you're taken aback, shocked that this adorable and precious little human is capable of thinking up a way to deceive you. You're also slightly worried now because a new era of parenting begins once kids learn how to lie.
One mom has a parenting tool to help promote calm, open and honest communication between kids and parents. Mandy Grass, @thefamilybehaviorist on TikTok, shared the five minute rule that she uses with her kids that practically "guarantees calm conversation."
What is the "five minute rule"?
The five minute rule in parenting is when a child can ask for five minutes to have a calm discussion about anything that is on their mind. Grass notes that this parenting "rule" was actually something her parents used to do with her as a kid. She loved the concept so much that she now uses it with her own family.
"Basically, you could ask for five minutes at any time and it guaranteed a calm conversation," she says. "Usually five minutes was to confess to a wrongdoing."
The behavior analyst and a parent coach went on to explain that, growing up, if she needed to talk to her parents, with no judgement or fear of a blow up, she could ask them for "five minutes."
"So growing up, I could say to my parents at any time, 'Hey I need five minutes,' and they would sit down, and they would listen, and there would be no yelling, no screaming, it would be a calm conversation," she says.
How does the five minute parenting rule work?
Grass notes that just because there is a promise of no yelling or getting outrageously upset, the five minute rule does not mean kids get a free pass to get away with something they did that may be perceived as "wrong."
"This did not mean no consequences. Usually, there was a logical consequence. You know, usually had something to do with the behavior you'd engage in. For example, I snuck my phone. I might lose my phone. I snuck out. I might lose going out that weekend, that sort of thing, but it guaranteed no explosive over-the-top conversation," she says.
How to use the five minute parenting rule
When she was a child, Grass admits that she always assumed her parents put the five minute rule into practice for the sake of her and her siblings. However, now that she's a mom herself — she sees a different perspective. So, how do you use the five minute rule in parenting? It's all about leading by example, says Grass.
Parents need to practice the concept several times, prompt their kids to use the five minutes, and continue to explain to them how the five minute rule works.
"As an adult, I realized it's completely about the adult. So, I introduced it to my kids. I explained it to them I gave them some examples of how I used it, and then I modeled it," she says in her TikTok video.
"For example, my daughter came down and said, 'Hey, where's my artwork?' And I said, 'I need five minutes. I think I cleaned it up ... I think I threw it out when I cleaned up the counter. I'm really sorry.'"
She also modeled the rule for her kids and helped prompt them to confess to some wrong doing. When she noticed that her daughters had been using her makeup, she asked them if they needed five minutes to tell her anything.
Her daughters immediately said yes and confessed to using the makeup.
Instead of getting upset, she thanked them for coming clean and being honest, building trust and a healthy line of communication between kid and parent.
TikTok users praised Grass for the brilliant parenting concept.
"Oh I love this! It promotes communication and trust whilst also allows space for reasonable consequences and reflection! What a great tool!" one user wrote.
Other users noted that they were very good at being deceptive and lying when they were young and something like the five minute parenting rule could have been helpful growing up.
"I was way too good at hiding & lying when I really wanted their advice & help with my mistakes ☺️This is an amazing idea I can try with mine now," one user said.