Teens Sweetly Rally Around A Grandmother Who Lost Her Grandson
Grandma Peggy continues to see her late grandson's friends by the dozen each week at their breakfast club.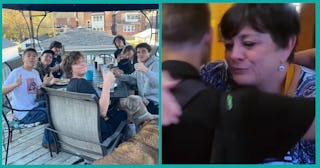 CBS Sunday Morning / YouTube / Facebook / Peggy Winckowski
In St. Louis, Missouri, a grandmother is mourning the sudden loss of her 15-year-old grandson, Sam. But she is far from alone — and Sam's friend are making sure of it. Dozens upon dozens of them continue to flood into her house each week, seeking a warm hug, mutual comfort, and some good food.
The tradition began before the community lost Sam.
Two years ago, high schooler Sam Crowe, his cousin Owen, and his friends used to go to a diner before school every Wednesday — the day that their school, Bishop DuBourg High, observed a delayed start. But then the pair realized that their grandmother could cook a better breakfast.
"One day, Crowe came home and said to me, 'I told my friends that my grandma makes the best breakfast,'" Peggy Winckowski, known universally as Grandma Peggy, told Fox News Channel 2 in St. Louis. "I told Sam and Owen to bring their friends and I will make breakfast next Wednesday. When they were all leaving to go to school, they hugged me."
She said the teens asked to come again next week, and they kept coming every Wednesday morning.
"So, a breakfast club was created and throughout the year and each week, it got a little larger," she said to the local news channel.
It's a good story, but one that was soon struck by tragedy. In July 2022, Sam was riding a moped at night and was struck and killed by a car. The community was stunned and Grandma Peggy was devastated.
But one thing that didn't change was the breakfasts. In fact, they just got bigger.
For a week after the accident, teens gathered at Grandma Peggy's house every day. And then they continued to come for hugs, eggs, bacon, and waffles every Wednesday during the school year. And Wednesday Morning Breakfast Club marched on.
The kids also include Grandma Peggy when they celebrate big game days, holidays, and other milestones. And of course they come over for Grandma Peggy's birthday.
"Grandma Peggy just brings everyone together," one teen told CBS Sunday Morning. "She cares for us a lot. She really cares for us."
"She's just a built-in grandmother to all of us," said another.
"Sam would be so proud," Grandma Peggy told the growing line of kids showing up at her door at dawn on a Wednesday. "Look at what he started."