by Candace Smith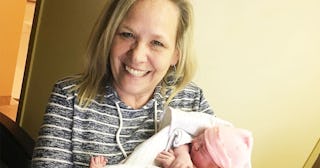 Courtesy of Candace Smith
October marks four years since my sweet four-month-old granddaughter, Lainey, passed away from SIDS. President Reagan, who proclaimed October as National Pregnancy and Infant Loss Awareness Month, said it best: "When a child loses his parent they are called an orphan. When a spouse loses his or her partner they are called a widow or widower. When a parent loses a child there isn't a word to describe them." It is the same when a grandparent loses their grandchild.
My granddaughter Lainey was born in June of 2016. We were so happy to have a child in the family with a summer birthday. She had such a beautiful smile and the cutest little chin. Even as a baby you could see her happy-go-lucky personality shine through. In her short life, she touched so many people.
On October 16th, 2016, I got the dreaded call from my daughter that my granddaughter Lainey was not breathing. Quite honestly, I do not even remember getting dressed or driving to her house that morning. However, when I got there, the street was lined with police cars, ambulances, and fire trucks. I literally had to park down the street and run (barefoot) to get to their house.
As much as I wanted and prayed for Lainey to start breathing, I knew in my heart that she had left us. I knew she was not coming back. At this point it was almost like I was watching a movie and it really was not happening to me. It was probably the closest to an out of body experience I have ever had. Looking back, I think everyone was in shock that morning.
Four years later, I can still see the looks on my daughter's and son-in-law's faces that horrific Sunday morning. It was a look of pure agony. Actually, agony is not even a strong enough word to describe their expressions.
Being a grandma (Nana) of a child who has passed holds a whole other level of grief. Don't get me wrong — I am not "grief comparing." I am in no way saying that being a grandma with a grandchild passing is worse pain than the mother who lost her child. I cannot even imagine that kind of pain. However, it is quite different.
Not only do you feel your own pain but you feel your child's pain. Not only are you grieving for the loss of your grandchild … you are grieving for your child's loss of their child. A loss that does not go away after the funeral. A loss of many things and milestones for years to come. It is a grief you wish so badly you could take from your child.
The hardest part in my mind is that not only do you have to be strong for your child but for your child's other children. Seeing the sadness and questioning in my other grandchildren's little eyes was something I will never forget. It was almost unbearable to know they would not get to know their sister as an adult … that they will someday question their sister's death and have to relive the pain when they are old enough to understand it.
When my granddaughter passed, I had a lot of support from my work family, friends, and my own family. But because I was trying to be strong for everyone else and hold it together, I did not show emotion publicly when she passed. Sadly, I was talked about because of my response to grief, implying that my "non-emotion" meant I hadn't loved her enough:
"She is not emotional enough."
"Something is wrong with her."
"It is not natural for her to act that way."
"She is acting angry."
"I cannot imagine losing a grandchild and not crying."
"What is wrong with her?"
These types of comments are made by people who, thankfully, can't possibly understand the pain of losing a child or grandchild. Therefore, during this month, let's remember that everyone grieves differently. Everyone is on their own time table, and it may be different every time they grieve. One thing I know for sure: There is no right or wrong way to grieve. There is no "normal" way.
Step back and see how you can help a grieving person instead of judging them — I guarantee you they are doing enough of that all by themselves. Do not forget the anniversary of their child's passing. Use their child's name in a sentence. Do not be afraid to talk to them about their child. You cannot possibly make them hurt more than they already do.
Most importantly, celebrate their child's life with them … as short as it may have been.
**********************************
To my sweet muffin Lainey … I wish I could pinch those sweet cheeks one more time. I wish I could see that beautiful smile and cute little butt chin of yours. I so wish I could hug you and tell you I love you.
Dance with angels, girl … run on the streets of gold and climb on the pearly gates.
LIVE YOUR BEST LIFE!
Nana loves you, sissy girl. XOXO
This article was originally published on