8 Tips For Grieving With Small Children
by Brianna Bell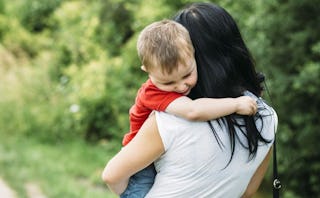 Shutterstock
My brother died less than a month ago. A sudden and unexpected death that has left my entire family reeling in the deepest agony we've ever felt. The depth of my grief has seeped into every pore of my body. This pain has left no area of my life untouched, spilling onto my kitchen counters where curdled milk sits in bottles and peanut butter remains caked onto once sparkling dishes. There is no manual for grieving the death of a loved one when you're a mother to young and needy people. Even if there is, I'm to freakin' exhausted to read it.
RELATED: Meaningful Grief And Loss Activities To Help Kids Cope With Death
What do you do then, when your heart is bursting and your life feels like it's falling apart? When you can't even cook a simple meal for your family or take your kids to the park because it feels like the biggest task in the world? Well, if you're me, you write a blog post about how to grieve. Hopefully it helps all the mamas out there mourning the loss of yet another miscarriage, the death of a loved one, or whatever else can grip us and bring us down into the clutches of depression and despair.
1. Give yourself time.
Your kids will survive on pizza if they have to, for a little bit at least. Do what you have to do to get through this time. Buy some frozen meals. Crash your mom's house for dinner once a week if you can. Let the dust collect in the corners, and let your kids become master TV enthusiasts. Just be for a little while.
2. Get some damn good counseling.
There is a difference between grieving well and not grieving well. If you've lost someone close to you, then you know what I mean. If you are grieving well, I can guarantee someone else you know isn't (and that will only add more stress and grief to your life). You need someone to talk to who will affirm your emotions, listen to you vent, and give you good tools to deal emotionally with everything in your life.
3. Cling to the beautiful moments.
You won't be having a good day for a long time. But you can have some really good moments, and that's worth a lot. Wrap yourself up in those moments like a cozy blanket. Remember the feel of your 3-year-old curled up on your lap reading with you earlier today. Close your eyes and see your chubby-fingered baby swinging higher and higher at the park. Sink into those snapshots in time and let them carry you through those waves of panic, grief, and agony.
4. Compartmentalize.
I have become the queen of compartmentalizing my life. During the day, I try to be on "Mom Mode" as best I can. When my husband comes home, I typically nap and give myself the chance to feel all those emotions nagging at my soul. I grit my teeth through hour-long tantrums and spend five minutes with my face in a pillow. As soon as my tears start, I give myself permission to cry until I have no more tears left.
5. Remember.
It's OK, go ahead. Remember the one who is gone. Share stories with your kids. Let them know your heart is sad because the one you loved so much is gone. But that doesn't mean you can't tell stories and look at pictures and smile and laugh and cherish the life you loved. It will do you and your children good to grieve and remember together.
6. Forgive yourself.
Forgive yourself for the burned toast, the screaming tantrum that rivalled your 2-year-old's and the fact that you actually didn't have to take a pregnancy test for the first time in forever. Because, you know, nuns can't get pregnant. And you basically are one. You are going to be dropping the ball a lot; just learn to expect that, and give yourself grace.
7. Get some support.
Some of us are lucky enough to have friends willing to drop off a meal or take our kids for an afternoon. If someone offers, do not be humble and shy, just accept and show gratitude. Sometimes we need to create our own support. Hire a babysitter; go out to a movie with your husband or for coffee with a friend to chat. Bring in a cleaner to help with the chores. I'm a fairly budget-savvy person, but when you are in the throes of grief it's best to put the budget aside and simply do what you need to survive.
8. Don't give yourself a timeline.
Grief and suffering do not have a stopwatch. They do not answer to time. Don't expect to feel like yourself in six months. Don't expect to not feel like yourself in six months. None of us grieves the same, and a lot of the grief process is simply learning to live through that process. To wake up each morning, look at your children and marvel at the beauty of their lives, to continue in your relationship with your spouse, to laugh at a really awful Melissa McCarthy comedy, and still, deep inside, have that bleeding gaping hole that nothing will ever fill. How will you go on? What does it look like to grieve and to live? It's different for everyone, so just take your process each day at a time.
I'm still early in the grief process. I'm depressed and walking through hell, but somehow life is still going on. I'm still living my life, loving my family, surviving on pizza and bagels. My children and husband haven't stopped loving me, and in fact, we are all growing closer and deeper in love through this. There really is no manual to grief, especially with young children, but knowing that it is a process and you won't feel this way forever hopefully helps. And you're not alone. This shit is hard, and it helps to know you're not the only one.
This article was originally published on