This Mom Prints Off The Cutest Age-Appropriate Grocery Store Shopping Lists For Her Kids
You can print the sheets, too.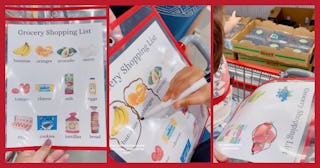 @learningencasita / TikTok
Taking kids to the grocery store (or anywhere) typically takes about 100 times longer and is 1,000 times more stressful. Honestly, the grocery store isn't exactly that exciting, so it makes sense that kids would get bored and maybe act out a little to spice up the trip.
One mom on TikTok has a major hack (and life skill activity) that keeps her kids engaged and entertained while also helping kids build a foundation for adult life skills they will need later in life: she provides each child with an age-appropriate shopping list — with pictures of each item.
And it's not that hard to do it yourself — or you can buy the printable grocery store lists for kids yourself.
Jess, @learningencasita on TikTok, shared a trip to the grocery store with her two children where she enlists their help in picking out the groceries for the week.
Jess uses printouts from home with pictures of grocery items at varying levels of recognition for her kids to then find in the store. Her younger kid gets simple items like bananas and oranges. Her older kid gets branded items that are a little harder to locate.
The printout is placed inside a plastic sheet so when the kids find something and put it in the basket, they can circle it with a dry erase marker. For future trips, new sheets can be inserted and the plastic sleeve can be wiped down.
Not only do the kids learn a lot, but they're happier and easier to manage in the store.
"What I did not expect was to have this list be such a grounding activity for them," she says in the video.
"It kept them so calm, so aware of their surroundings, and they were really into it, and it was really cute to see how they would get so excited for each other and just be so happy whenever they found an item on their list."
She continued, "Kids really seem to thrive when they are given age-appropriate responsibility. They love the trust that comes with it, and just so that they could accomplish something on their own. So, next time, this might be something you wanna try."
Not only does this grocery store activity bring purpose and excitement to a kid's day, but they are working their brains, helping them build basic life skills they will need in the future.
I wish my parents had done something like this when I was young. Instead, I had a near mental break in the middle of a Walmart in my early 20s because I could not wrap my head around how to properly budget and grocery shop for necessities. Could I afford the "nice" antibacterial wipes? I didn't know!
Several moms posted in Jess' comment section agreed that this hack is brilliant yet simple with some even joking how this could also work for husbands who never seem to bring the right stuff home.
"You should sell these for husbands. Somehow they'd still miss something 😂" one user joked. This could also work for male Instacart shoppers too! Brilliant!
Jess' kids grocery store hack is also backed by science. In the findings of an 85-year-old study from researchers at Harvard University, people who did more chores at a younger age often had more professional success and happiness later in life.
Add grocery shopping to the list of life skills we wish kids were taught in school along with taxes and health insurance!
How to make a reusable shopping list for kids
Buy reusable dry-erase clear plastic document holders. You just need one per kid, or one per grocery list page. As an option, you can buy one that has a carrying handle or attaches to their clothing so you aren't picking them up every time they get dropped.
Make and print your grocery lists. For younger, kids, include a picture and keep things simple. For older kids, try adding specific brands, quantities, or other directions. Make a list of "staples" that you can use again and again, or special lists for events like holidays or parties.
Next, buy some dry-erase markers and allow them to circle or cross off items on the list as you find them and get them in your basket.
If you don't have time or great graphic design skills, you can buy lists from the content creator above.