6 Reasons I'm Hating Overnight Camp
by Brooke Kwatny Kravitz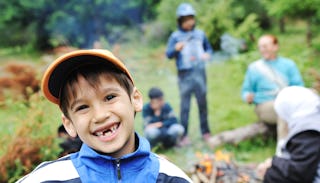 Two weeks ago, I put my son Riley on a bus to overnight camp for two months. If we're going to be completely honest, the decision to send him wasn't 100% voluntary on the part of parents or child. Though Riley initially wanted to go, as we got closer to departure, said he'd changed his mind, and I secretly started to doubt whether sending him was the right choice. And, though it may be proving amazing for him, turns out I'm the one hating overnight camp. Here's why:
1. The lack of photos. My son eludes the camp photographer with the same passion he reserves for avoiding showers. I scour almost 1500 photographs every day, and am lucky if I am able to spot his face in the background of a crowd shot in one of those pictures.
2. What the lack of photos has done to me. I analyze the precious few photos of him like Zapruder film frames. Most people would look at the photos and see my son is wearing a clean uniform every day. Instead, I see the possibility that he's not eating and therefore has no food stains on his shirt, so maybe he hasn't changed his clothes in days.
3. The camp letters I receive. The kid can solve complex algebra problems, but had absolutely no idea how to send a letter. I've had to mail him diagrams of what a properly addressed envelope looks like, since every member of our family received letters missing return addresses, and the addressee and stamp were both on the back side of the envelope.
So far, I've received three letters: one asking me to send his tennis racket, a second telling me it had been raining, and asking if I'd gotten his letters (both of which were just signed "Riley", no love for mom) and the third, in which he complained about a kid in his bunk being mean, was signed "Sincerely, Riley Kravitz".
4. The letters I send. It is no easy feat to constantly write letters to your camper in which you have to avoid giving them updates of life at home, lest they get homesick. Instead, you are left to compose letters that consist entirely of questions about life at camp, fueled by what you've seen going on in photos seen on the camp website. "I saw that there were camp Olympics this weekend- it looked like fun! What team were you on? What events did you compete in? Did you win any events? Have you been canoeing? What are your counselors' names? Who do you sleep next to? Please get in more pictures so I can see what you're doing, and then I won't have to ask so many questions!" You do this, knowing that the recipient will never answer these questions, and may never even read the letter, instead throwing it away once he opens it and sees you haven't stashed any baseball cards inside.
Hmmmm…. Daily letters barraging the recipient with desperate questions about their exciting life you've only seen from afar in photos, questions that will go unanswered…. Now that I think about it, writing to your kid at camp is a lot like being a crazed celebrity stalker.
5. Visiting Day: Oh Visiting Day, how I dread you. I miss my kid, and I want to see him desperately. But why, three weeks into camp, just as the kids are adjusting to being away from their families and are no longer homesick, do you have parents come visit for an afternoon and then drive off again into the sunset? This is the most twisted shit ever. All the progress they've made in the past few weeks gets flushed down the drain along with the remains of the Dylan's Candy Bar baskets brought as bunk gifts. I have visions of a counselor trying to pry Riley from the windshield of our car while we drive out of the camp parking lot. If you know of any kids infected with chicken pox, please send them my way; I'm looking for a contagious but not life-threatening excuse to not have to put myself and Riley through this torture.
6. The hole left by his absence is bigger than I ever imagined. There were so many times this spring when he was getting on my last nerve, I thought "Only one more month and I get a break from these battles!" I was totally unprepared for how quiet the house is without him (and without he and his sister fighting). Every time I pass his room and see his clean floor and perfectly made bed, I am hit by how much I miss him, and all of his messy, noisy, lovable tween self.
But, this really was the best decision for my child, and I know it. I see it in the pictures– he's happy, confidently playing sports he's never played, arms around friends he's just met, yelling camp cheers covered in face paint. My son faced something he so feared — seven weeks away from home — straight in the eye and not only overcame it, but loved it.
You know what, maybe I don't hate overnight camp after all.
Related post: The Best Letter From Overnight Camp, Ever
This article was originally published on