Study Finds Heavy Metals Still Found In Popular Baby Foods
Three baby food products have more toxic metals in them than five years ago.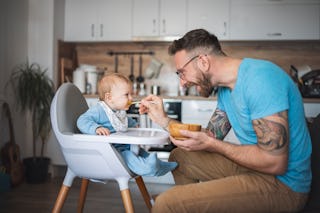 ArtistGNDphotography/E+/Getty Images
A recent report coming from Consumer Reports shows some of the most popular brands of baby food still contain heavy metals like arsenic, cadmium and lead. This shocking discovery comes several years after a similar report that also showed concerning levels of the substances.
Consumer Reports (CR) published the results of the follow-up study showing brands including Earth's Best Organic, Organics Happy Baby, Beechnut Naturals, Gerber and Baby Mum-Mum all containing amounts of the three metals.
Results showed that heavy metal levels increased in three products: Gerber's Chicken Rice Dinner and Turkey Rice Dinner flavors, and Hot Kid Baby Mum-Mum Teething Wafers.
In response to the CR test results, a spokesperson for Gerber said, "We work with our farmers to prioritize growing locations for optimal climate and soil conditions, approve fields before crops are planted based on soil testing and rotate crops."
"Additionally, we're continuing to invest in new research to help inform future improvements. For example, we're working with public land-grant universities to conduct on-farm research to identify soil and varietal variables that may reduce uptake of heavy metals from the soil by carrots and sweet potatoes."
The last time CR tested baby foods in 2018, 33 of the 50 foods were associated with potential health risks for kids due to combined exposures from those three heavy metals.
Since then, baby food manufacturers have taken some strides to make products safer, and the Food and Drug Administration announced plans meant to lower the levels of heavy metals in the food. However, the report said while some amounts have decreased over the past five years, the overall risk from the foods has only changed slightly.
So, what do the presence of heavy metals in baby food mean for kids and parents?
The CR report says "long-term intake of heavy metals may increase the risk of a variety of health and developmental problems in young children, including a lower IQ and behavioral issues, as well as ADHD, autism, and other issues."
The Centers for Disease Control and Prevention (CDC) warns that young children exposed to lead can suffer hampered development to their brain and nervous system. Around 2.5% of children under the age of five have been exposed to dangerous levels of lead.
As a result, they may have slowed growth, learning, behavior, hearing and speech issues.
In addition, arsenic, which was in several baby food products, is a carcinogen that raises the risk of bladder, lung, and skin cancers. It has also been linked to neurodevelopmental disorders and higher chances of infant mortality.
Despite some drops in metals for some foods, the increases in others evens the playing field when it comes to heavy metals in baby food. There is still much to be done about this though experts say parents should not panic.
"In some of the products, declines in certain heavy metals were offset by increases in others, so there was little change in the amount of the foods babies could eat. And we still found worrisome levels in foods that our last tests showed to be the most concerning, namely rice, sweet potatoes, and snack foods," said James E. Rogers, PhD, CR's director of food safety research and testing.
"While concerning, these results are no reason to panic," says Eric Boring, PhD, a CR chemist who oversaw the testing. "An occasional serving of even one of the foods with the highest levels is generally OK. Just remember to mix up what your kids eat."
Researchers recommend giving a child no more than one serving a day which is about one jar of baby food. However, when it comes to baby snack food, serving recommendations get a bit trickier.
The heavy metal content of baby snacks, like teething wafers and puffs, is concerning because children eat several helpings. For example, one serving of Happy Baby Organics Superfood Puffs, Apple & Broccoli is about 50 puffs.
So, what can parents do about this kind of information?
"To support child growth and development, we recommend parents and caregivers feed children a varied and nutrient-dense diet across and within the main food groups of vegetables, fruits, grains, dairy and protein foods," Susan Mayne, PhD, director of the FDA's Center for Food Safety and Applied Nutrition, said in the FDA's new draft guidance.
"This approach helps your children get important nutrients and may reduce potential harmful effects from exposure to contaminants from foods that take up contaminants from the environment," Mayne added.
There is no need to avoid sweet potatoes, rice, or carrots all together.
"These are nutritious foods, so you don't have to eliminate them from your child's diet," says CR's Keating. "Instead, serve them in rotation with many different vegetables and whole grains."
If you have the bandwidth, rather than using packaged baby food products with rice, make your own rice and cook in a large amount of water. According to the FDA, this can reduce the arsenic content by 40 to 60%
Lastly, limit apple juice and grape juice intake, which CR's tests in 2019 found contained higher levels of inorganic arsenic and lead in general than other fruit juices.
Read the entire Consumer Reports data here.