Important Things to Remember When Planning Your 2021 Holiday Travel
by Tanay Howard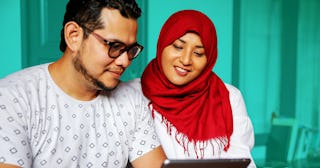 Scary Mommy Kanawa_Studio/Getty
After a dry 2020 holiday travel season, things are looking up for this year. With more Americans getting vaccinated against COVID-19 and its variants, and kids' vaccines coming soon, people are anxious to get on with their normal lives (whatever that may look like). Travel during the holiday season is expected to be busier this year than the past two, so how should one plan for the busy travel season?
When Should You Start Planning Your Travel?
Honestly, like… yesterday. Because did I already mention that people are ready to go? And while more people are ready to book flights, the airlines are not necessarily ready for the influx of passengers this holiday season. Please remember that airlines went through layoffs, retired larger aircrafts, and now with vaccine mandates the are faced with the possibility of a staffing shortage, With all of this in mind, you could very well run into the possibility of flights being unavailable if you wait too long to book. Additionally, it's a well known travel "rule" that you find better prices booking earlier. So if you have your heart set on flying, don't waste any more time!
Is it Still Better to Drive to Your Destination?
When travel was a little more restricted last year, many families opted to drive to their destinations. Road-trips have provided many with a sense of safety that being in a crowded plane does not. While driving definitely limits your exposure to people not traveling with you (until you stop at rest stops), it may not be as easy this year if you plan to rent a car.
The pandemic has turned the car rental process, like almost everything else, into an absolute nightmare. Popular rental car company Hertz went bankrupt in 2020, and rental companies sold thousands of cars. When the demand for rentals increased, companies had a hard time keeping up. And of course with an increase in demand, prices for car rentals also increased. In June of this year, the price to rent a car (according to Hopper) peaked at $123/day excluding taxes and fees.
If you're fine with driving your own vehicle long distance, driving definitely provides a layer of comfort for those a little more anxious about crowding.
The Best Way To Keep Up With Your Destination's Travel Requirements
Many destinations both domestic and internationally have opened their doors to tourism again. I'm not sure about you, but I have a much better peace of mind when I know what I am getting myself into. While we cannot predict the future and the ever-changing course of the pandemic, there are ways to keep track of your destination's travel requirements. What are the mask mandates? Are there vaccination/quarantine requirements? What is the current COVID transmission rate? All of these are important questions to keep in mind when planning your holiday travel. The U.S. Department of State regularly updates their database of country specific COVID-19 information. You can also find important information such as travel advisories, visa requirements and vaccine informations.
The Most Important Things to Remember When Planning Your 2021 Holiday Travel
If everything I just said feels a little overwhelming, trust me — it's not as bad as it seems! Here is a checklist of things to remember when planning your travels this year.
Plan ahead. Like yesterday. Utilize sites like Hopper and Google Flights. You can schedule to be alerted when it is the best time to book.
PREPARE FOR SHORTAGES. There is a shortage of everything. Rental cars, flights, even luggage! Keep this in mind and prepare to either pay more, or be flexible with your plans.
Utilize travel insurance. But make sure you read the fine print. Often times travel insurance doesn't cover what people think it does (I know, I worked as an agent in a call center for travel cancellations). Make sure that when you purchase it covers cancellations and changes that may arise in the event of … a global pandemic!
Don't book anything that cannot be cancelled or changed. See above.
Check (and check again) your destinations mask mandates, vaccine/quarantine requirements and specific COVID-19 information.
Know the rules of your airlines. Middle seats are no longer blocked, masks are mandated in airports and aboard aircrafts, and some things have changed since pre-pandemic. Re-familiarize yourself with your airline so nothing comes as a surprise.
Helpful Travel Hacks for Parents
Gate check! Navigating an airport carrying a baby/toddler can be tiring. Checking your car seat and/or stroller at the gate gives you the ability to contain busy bees.
Food can go through TSA. While you cannot take beverages through TSA, food is allowed. Don't be afraid to pack your kids favorite snacks with you for your holiday travels. Goldfish and fruit snacks are usually big hits!
Formula and breast milk are the expection to the TSA liquid rule.
Wireless headphones are becoming more popular for kids. They are especially helpful in the fact that you don't have to worry about getting tangled in yet another thing.
For many, holiday travel pre-COVID was already stressful. The way the world seems to shift majorly on a day-to-day basis can definitely be an added anxiety trigger. Especially for parents. Hopefully with a little prayer and a lot of planning, this holiday season won't be a complete bust. Personally, I'm just glad that things are seemingly on the upswing. I'll take $400 flights over another lockdown any day!
This article was originally published on