20 Ways To Embrace Horizontal Parenting
by Shannon Day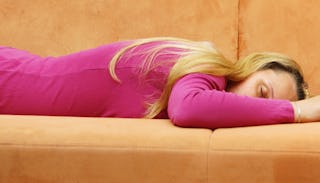 Horizontal Parenting, also known as couch-based parenting, isn't likely something that you plan for. But you should. For there will be times when you find yourself totally (or partially) out of commission and unless family members or friends come to the rescue, you'll still have to take care of, and entertain, your little people.
Maybe morning sickness is your nemesis. Perhaps an all-encompassing flu has you in its clutches or, heaven forbid, you've got a hangover. But fret not, friends, because it is possible to play an active parenting role while remaining, virtually, inactive…
You see, it doesn't really matter what lands you on the couch. It's what you do (or don't do) while you're there, that counts. Here are some simple suggestions to help you excel as a Horizontal Parent. The following ideas can be orchestrated while you lounge and, depending on the age of your children, your involvement can be minimal, allowing you to rest…
1. Play I Spy.
2. Play UNO.
3. Read (look at) books.
4. Play Spa. You are the spa goer. The kids are the staff, who specialize in hand and foot massages (provide a towel and lotion).
5. Encourage the kids to play: Make Your Own Sandwich.
6. Make bracelets.
7. Get themto build a giant tower with Lego or blocks.
8. Play Tic Tac Toe.
9. Ask the kids to tell each other stories. Take turns adding details.
10. Engage in a horizontal game of: Keep the Balloon Up.
11. Do Improv.
12. Play Hospital. You're the patient. They're the doctors.
13. Engage in a game of: Who can lay silently, without moving, for the longest?
14. Provide never-seen-before crafty things (like stickers, colouring sheets and crayons. Avoid scissors, markers, glue and glitter).
15. Watch movies (obviously).
16. Snuggle (of course).
17. Play Theatre. Ask the kids to create, rehearse and perform their own show.
18. Order a pizza.
19. Play: Who's the best Whisperer?
20. Hold a Tidying Up competition.
See? With a bit of proactive planning, you can shine as a Horizontal Parent. We all can.
Related post: 5 Ways to Entertain Your Child When You'd Rather Be Sleeping
This article was originally published on