How to Throw an Adult Slumber Party
by Nicole Johnson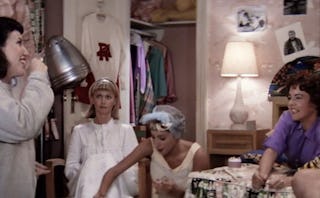 Recently, I witnessed something I haven't thought about for years: the slumber party. You would invite your girlfriends over and stay up all night making prank calls and talking about boys. It was bonding at its best. I want to bring this night of debauchery back, adult-style. Pick up your cell, call your best girlfriends, send the kids to grandma's and the husband to his room. The adult slumber party is here, and it's sure to catch on with the middle-aged set.
All you need is a large room, a living room, sleeping bags (or the air mattress if you have a bad back), movies, food and drinks (the alcoholic kind).
Here are 10 fun activities to get the party started:
1. Watch
No need to run to the local video store, simply fire up Netflix or hit Redbox. Pick a genre based on the overall mood or take a vote. A popular choice for sleepovers way back when was the slasher flick (think Jason, Freddy and Michael). Another favorite in this genre: Witchboard, starring Tawny Kitaen (the lady who danced on the car in the Whitesnake video) and Patch from Days of Our Lives. If you don't want to scream and would prefer to cry, go romantic. You can't go wrong with Dirty Dancing or Ghost.
2. Eat
Ladies, forget the diet for the night. Sleepovers are a time to pig out. Order pizza or make it with English muffins and your favorite toppings. Of course, you'll need popcorn (the butter-coated kind) and movie theater candy (Sour Patch Kids, Skittles and Twizzlers all work). For dessert, you can make sundaes.
3. Drink
Do like back in the day, when we would mix whatever alcohol we could find and drink it in soda bottles, so if a parent came in, you wouldn't get caught. Now, you're legal and have been for more years than you care to admit, but you can pretend. Isn't that what this night is all about?
4. Pull Pranks
This one isn't as easy now that everyone has cell phones with caller ID, but don't give up—you'll find a way. Another great one is the old bra in the freezer trick. Please, ladies, do not fall asleep first.
5. Get Pretty
Sure, you may have traded the Noxzema for Oil of Olay and the Sun-In for permanent hair dye (to hide those grays), but that doesn't mean you can't do hair, nails and makeup. Facials with cucumbers for your eyes and hot oil treatments have a way of making anyone feel beautiful.
6. Read Magazines About Cute Celebrities
Your ideal celebrity crushes may be in their thirties or forties, but you still find them attractive and they are still in some magazines. Trade in the Tiger Beat for the Us Weekly and enjoy some eye candy.
7. Play Games
Board games are great and a staple of the slumber party. Grab "Heartthrob" and find out who your dream date is—will it be the doe-eyed dreamer or the fair-haired jock? "Truth or Dare" and "I Never" also make for interesting conversation. "I never let a boy get to second base." OK, this one may be difficult considering you are now a grown woman, but who knows what you'll discover?
8. Get Scared
Grab the ultimate slumber party game, the Ouija board. Think of the slasher film, from earlier in the evening, as a warm-up for the real scare. Remember, someone is moving the pointer with their finger. Or are they? You could also turn the lights off, stand in front of a mirror and whisper, "Bloody Mary." Say it 10 times. I dare you.
9. Get Boys to Crash the Party
This may have to be your middle-aged husband and his boys, but they'll do. The great part? You know these guys so well, you won't get those annoying butterflies in your belly like you did when you were a teenager and boys were around. Wow, I miss that feeling.
10. Girl Talk
Share secrets and dreams like you did years ago. Sure they've changed, but I'm sure you still have some. You can also recommend anti-aging creams, bitch about husbands and laugh at how much life has changed. This should be the final activity of the evening because this may bring you down. The important thing is to talk like you used to about everything and anything.
This article was originally published on