10 Things To Do In Ithaca With Kids
by Charisse Oates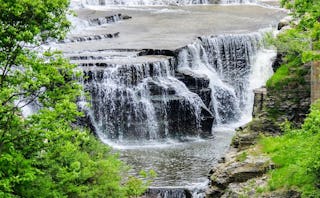 Ithaca is unlike any other place I have ever lived and I've lived in quite a few places. Honestly, I can't imagine living anywhere else. If you find yourself in Ithaca with kids, here are my ten must-dos!
1. Cass Park is home to the Ithaca Children's Garden. This is a great little portion of park that has a fruit and vegetable garden that the kids can wander through, pick their own snacks, and learn about growing their food. There is a giant turtle to climb that has the different phases of the moon depicted on his back. The kids can run around and play on the art sculptures, mushroom shaped drums, and even run in and out through little playhouses.
2. Ithaca is Gorges is our city "motto" that people have plastered all over their cars and on t-shirts and with more than 100 different waterfalls to see, it's easy to understand why. Take a day and drive from one end of town to the other and just see waterfalls. Some you can get out and play in. Some you can swim in. But all of them are breathtaking and beautiful. Taughannock Falls is actually taller than Niagara falls.
3. What kind of a vacation is it if you don't have ice cream??? Well, here in Ithaca we have tons of different places to get your frosty milk desserts, but my two favorites are Purity and Smart Yogurt. Purity has great ice cream with tons of different flavors, including some dairy-free (awesome for people like me who can't have milk) and sugar-free. You can get just about anything you want in any kind of cone, bowl, or dish for a really reasonable price and then sit outside and eat on the uber-cute red picnic tables. Now, if YOGURT is more your thing, then you have to stop by Smart Yogurt. They are located right in the middle of town, are locally owned, and make all their own yogurt with 0% Chobani and HIGH QUALITY ingredients. If you aren't sure what you want, they will give you as many sample cups as you want. After you choose your yogurt, head on over to the toppings bar and add anything from fruit, to candy and nuts, to hot fudge and marshmallow topping. NOM NOM NOM.
4. If you need some time to sit and chill, but the kids are bored bored BORED – take them to Niki's Party Place (we all call it the bounce house in the mall – I even had to Google the actual name!!) to jump off some energy. It's super cheap, only $5.00 for a full hour of running, jumping, and bouncing while you sit off to the side and can leisurely play on your smartphone and wave and nod at them every so often. We go several times during the winter when there are not a lot of outside options, but it is perfect for any time of the year.
5. Did you bring the dogs with you on your vacation? That's perfect because Ithaca has an off leash dog park. It's divided into two sections, bigger dogs and littler dogs, and is a blast to take the dogs to run off some of their energy. Kids have a blast petting and playing ball and running with all the different dogs. There are picnic tables, Adirondack chairs under shade trees, small kiddie pools for them, and compostable clean-up bags all on-site. The only down side is that if you have smaller children the bathrooms are not super close.
6. The Ithaca Farmer's Market is the place to be on a Saturday. There are more than 50 different vendors there selling everything from fresh produce, to meats, arts & crafts, clothing, and on and on and on. There are also several different food booths. You could spend several hours just wandering and tasting and enjoying the crowd. And the fact that it is right on the edge of Cayuga Lake isn't too shabby, either. You can wander down and feed the ducks or pick up a lunch cruise ticket and wile away the day.
7. If you know anything about the Finger Lakes area, then you have to know that we are big into wine and cheese making. And one of the best places to do a wine tasting is at Americana Vineyards. This winery is attached to a pretty little cafe with some of the best food in town. And, since kids get pretty bored watching grown-ups drink things that they can't and talk about the flavors and aromas and body of the wine, they are more than welcome to pet and play with the two dogs, Max and Rubie, and the plethora of cats around.
8. If you have budding scientists in your crew, you have to do the Sagan Planet Walk while you're in Ithaca with kids. We are lucky enough to have our own walking scale model of the planets. You start at the very center of The Commons in our downtown area where you can purchase the Solar System passport and begin at the sun. As you go from the sun to Mercury, Venus, etc you wind your way through the edge of town and wind up at the Sciencentre where you can learn about Pluto. Then, take your completed passport inside and get free admission to the children's hands-on museum. Kids can use blocks and rubber ducks to explore what happens when creeks get blocked, they can play with a two-story Rhoad's kinetic sculpture, play mini-golf, visit the animal exhibits….and more. There are more than 250 different things to see and do.
9. Myers Park is a great place to spend the afternoon, or if you're camping, the week. There are spots for RV camping right along the edge of the lake set back in a secluded little "wooded" area. There are two playgrounds, volleyball courts, horseshoes, a marina for boat launching, and a gorgeous grassy knoll where I have taken to doing some Pilates after my (attempt at) jogging around the path. Since it's a college town, anyway, no one looks at you strange for getting at there and attempting to get your exercise on. There's even a swimming area in the lake that is roped off and has an on-site lifeguard on duty. It will cost you $3.00 to take your vehicle in if you're not a resident, but if you park at the top of the hill and don't mind a bit of a walk, there is no cost to walk in to the park.
10. And last, but definitely not least, is the Cayuga Nature Center. Munchkin usually spends a good portion of her summer and spring breaks here attending one or more camps. They have an amazing animal exhibit with peacocks, foxes, chinchillas, different snakes, *EEEEK* and even a tiny little hedgehog. There is a six story tree house for kids to climb and run and play in and if you're into hiking, there is an awesome trail to explore. The property is beautiful, the people are wonderful, and good times will be had.
Got any other favorite things to do in Ithaca with kids? Leave them in the comments!
This article was originally published on