Ba-ya-ya ba-da-da-da-da-da
A Mom Shares The Completely Genius Thing She Does To Stop Her Teen Boys From Fighting
Cannot stop laughing at this.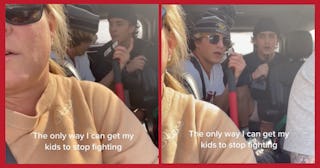 @haueterfamily/TikTok
The Wheel. Sliced bread. The printing press. These are the inventions that have shaped humankind's fate and changed the world forever — and now we have one more discovery to add to the list. This mom's completely genius strategy for stopping her teenaged boys from fighting in the car.
Kara Haueter is the mom of five kids — Kylee, Conner, Max, Ian, and Jayden — all in their teens and 20s. Over 9 million people follow her family on TikTok and social media, and it's easy to see why, as the rambunctious kids and fun parents share their lives with the world, complete with dances, pranks, and hijinks.
But one of their most popular videos is all mom.
"The only way I can get my kids to stop fighting," she captions the video, which opens with her two oldest boys, Conner and Max, fighting loudly in the back seat over we can't tell what — possibly sneakers. The fight is super annoying and the parents are not into it. But Kara has a plan.
"Watch this," she says to the camera.
She fiddles with the car stereo for a minute, sits back, and revels in her brilliance as Seal's Kiss From A Rose begins to play.
Both of her sons get real quiet as the first notes begin to play. And then, as Seal begins to sing, they each join in — one boy taking the lead vocals and the other taking the background part. The items that they're holding (Ice scrapers? Sports things?) morph into pretend microphones. And what was just moments ago a verbal brawl is now literal harmony.
The video has tallied over 17 million views, 3 million likes, and 12,000 comments, adding to the already-popular following that the Haueter family enjoys.
Down in the comments, viewers were just as impressed as they should be.
"This conflict resolution technique has my seal of approval," wrote one person.
"You gotta stop for Seal," another says.
"This is an amazing cheat code."
"From beasts to sweet babies in one second," wrote another.
A few parents shared the songs that get their kids to stop fighting in the car.
"Same, but it's Africa by Toto," shared one mom.
"Mine do that to Bohemian Rhapsody," wrote another.
"My mom put on the Bee Gees."
Seal's Kiss From A Rose was released in 1994 and re-released as part of the Batman Forever soundtrack in 1995. It won Song of the Year at the 1996 Grammys and topped the Billboard charts in multiple countries.
Here's the whole official music video, just because.