The Best Wetsuits For Your Little Surfer-In-Training
We only recommend products we love and that we think you will, too. We may receive a portion of sales from products purchased from this article, which was written by our Commerce team.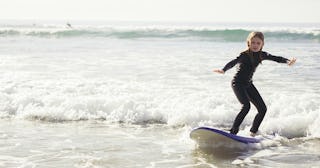 Getty Images
Kids' wetsuits are like magic for children who spend a lot of time in the water — whether they're in a swim class, swimming or boogie boarding at the beach, or splashing around with friends in an inflatable pool. Wetsuits make cold water temperatures more comfortable, which gives kids the chance to play all day in the water without complaining. (They'll still complain, just hopefully not about being cold.)
While they may be a pain to put on and take off, wetsuits do a lot of good. Wetsuits for kids are made of a rubber and nylon called neoprene, which has a natural buoyancy, making it easier for kids to float. (It's important to note that wetsuits aren't safe to be used as floatation devices.) The material also helps protect kids from scraping themselves on something in the water or being stung by a jellyfish, from the sun's harmful UV rays, and from sand getting in all the places. Plus, wetsuits are just cool, especially if your child is all about that surfer vibe.
There are several types of wetsuits that vary in style, material, body coverage, design, and thickness (with 3mm providing more thickness than 2mm) — it can be a bit overwhelming. We spoke to Marion Clark, Beach Programs Director for Surf Academy and The Surf Bus Foundation in Southern California, and she has some great tips for finding the right wetsuit for your kids.
"Wetsuits for children come in similar styles and thickness as adult suits: tank bodysuits, short sleeves/short legs (spring suits), and traditional full suits," Clark told Scary Mommy. "The best kids' suits will have easier entry/exit strategies like velcro at the shoulders and zippers at the ankles. If a child doesn't like tight things going over their head, a back zip wetsuit is better than a chest zip or zipperless wetsuit."
As far as figuring out the right size, Clark highly recommends referencing size charts when available. "If a child fits into the weight category of one size and the height of another, then consider how your kiddo fits into jeans," Clark said. "Neoprene stretches to fit and it should be snug or it won't keep your child as warm as intended. If you have a child that is a ball of muscles, go with the height over the weight. If you have a slender kiddo, go with the weight over the height."
Best Youth & Kids Wetsuits
Best Toddler Wetsuits
This article was originally published on