Land Of Nod's Sesame Street Collection Is Too Cute For Words
by Megan Zander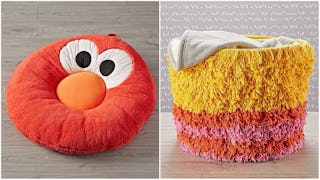 Images via Land of Nod
You'll love Land of Nod's new Sesame Street collection just as much as your kids
Land of Nod has teamed up with Sesame Street on a line of baby and kid decor and furnishings, and we're more pumped than Cookie Monster when he finally gets his hands on a batch of fresh baked chocolate chippies.
The line was designed to honor the fact that every moment with our kids is special. "Sesame Street is all about celebrating everyday moments with your family from sun up to sun down," said Gabriela Arenas, Vice President of Licensing, North America, Sesame Workshop in a press release. "With Nod, a company that shares the magic of childhood through kids' furniture, bedding, and accessories, we were able to create a collection that reflects the vibrancy of Sesame Street. The collaboration was a natural fit."
Big Bird and the gang were a huge part of so many of our childhoods, but unlike Rainbow Brite and Jem, our kids know all about Sesame Street. Elmo's just as much of a rock star as he was decades ago and the Count is still counting. We might not know who Abby Cadabby is, but ask any two-year-old and they will climb into your lap and give you her unabridged life story. That's what makes this collection so unique. The items may be for babies and kids, but the designs are just as much for us as they are for them.
Pretty sure I need to have another baby just so I can buy this activity chair ($129).
My inner child is squealing for this wall sign ($59), while the practical mom in me loves the functional hooks.
RELATED: Easy Wall Art Ideas For An Instagram-Worthy Nursery
This Oscar the Grouch hamper ($79) is all of us when dealing with the laundry.
Swaddle blankets ($49 set of three) are a newborn staple, so why not get ones you'll like looking at?
Besides being all kinds of adorable, this Elmo nest ($89) is super useful for feedings, tummy time, and checking out board books.
The nostalgia you feel when looking at these diaper changing pad covers ($70 for set of two) will make dealing with blowouts suck a tiny bit less.
This classic wooden stacking toy ($59) features Oscar, Cookie, Big Bird, Elmo and Abby and has zero flashing lights or annoying sounds.
Baby stuff has a way of exploding all over the house, no matter how hard you try to stay organized. But this growth chart ($69) could totally pass as a funky modern art piece in the living room.
This storage bin ($59) is fun to touch, reminds us of Big Bird, and helps keep crap off the floor. Sold.
A Cookie Monster bowl and plate ($8 each) are great for making the usual mac and cheese with nuggets feel special without having to attempt anything off Pinterest.
This area rug ($299 and up) doubles as a playset of Sesame Street, so all those stuffed Abby and Elmo dolls will have a place to chill.
A pint-sized armchair ($149) is the perfect throne for your Abby fan to sit while they watch the latest episode on repeat.
This Ernie hooded towel ($45) is ridiculously cute. It even has his signature rubber duckie.
This alphabet shower curtain ($59) brings back so many memories of the letter of the day.
Everyone knows that babies are natural alarm clocks. But this Elmo version ($29) is adorable, and will let you know just how long you've been rocking in that chair waiting for a little someone to fall asleep.
Now the hard part — deciding what to take out of the shopping cart.
This article was originally published on