The Abhorrent Cyber-Bullying Of Lil Nas X Is A Reminder That LGBTQ+ Kids Need Our Support
by Lindsay Wolf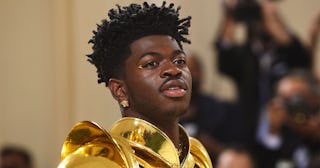 Evan Agostini/Invision/AP/Shutterstock
It seems that the more Lil Nas X shines brightly for all the world to embrace, the more despicable bullies become in trying to tear him down.
This time, it's 38-year old Torrance Hatch Jr. whose doing the trolling. Known to many as Boosie BadAzz, the hate-spewing rapper has spent the better part of a year making unhinged and homophobic social media rants against Lil Nas X, with his most recent tirade reaching horrific cyberbullying levels.
In a now-deleted tweet, BadAzz urged the 22-year old rapper to do the world a "huge favor" and die by suicide.
I don't know what's worse — watching a grown-ass 38-year old man torment a young person who just aged out of being a teenager or the excruciating fact that so many LGBTQIA+ teens understand all too well the pain of being bullied like Lil Nas X. And heartbreakingly, many of these kids do not have the support at home or in school that they deserve to help them survive long enough to experience adulthood.
According to their national 2021 survey, The Trevor Project found that 42% of LGBTQIA+ youth ages 13-24 have seriously considered attempting suicide in the past year. Two out of every three kids surveyed shared that they do not live in an LGBTQIA+ affirming household, and the report also found that queer students who reported being bullied in the past year were three times as likely to attempt suicide.
Cyberbullying is as insidious as it is contagious, especially when adults like Boosie BadAzz publicly model for younger generations exactly how to perpetuate hatefulness. This is why we need celebrity advocates like Lil Nas X to continue sharing their stories with conviction and courage. We also need the parents, teachers, and caretakers in this world to listen as clearly to his message as our youth does.
With over 15 million copies sold, "Old Town Road" initially began as a TikTok video challenge before it catapulted Lil Nas X into stardom. In the music video, which features a revitalizing blend of X's hip hop stylings and the country vocals of Billy Ray Cyrus, the recording artist plays the role of a Black cowboy trotting into a primarily Black community on his trusty horse.
Residents initially scratch their heads in confusion and shock as they witness Hill's casual confidence in cowboy gear, but they eventually get on board and start enthusiastically dancing along to his country-rap anthem. Like so many moments to come, Hill chose to do what the young game-changer does best. He represented himself as a human being who deserves to belong.
This message of belonging is not only crucial for so many queer kids to hear, it's also life-saving for them to wholeheartedly know.
Lil Nas X's overnight rise to fame led to a moment of deep personal reckoning, with the young adult coming out as gay to his father and later to the rest of the world in 2019 on the final day of Pride Month. Yet again, the Georgia native chose to buck the societal quo and openly be himself against all odds, carrying along with him the trust that doing so would help millions of LGBTQIA+ youth to feel seen and heard.
He knew the risks of publicly affirming his sexuality, since he spent much of his Christian-led childhood hoping that being gay would just be a passing phase. But much like his revolutionary career began, Lil Nas X would surprise even himself by boldly choosing the path of authenticity, self-trust, and strength that has inspired so many young people to follow in his footsteps.
In a full-circle moment, Lil Nas X was honored by The Trevor Project in September with their 2021 Suicide Prevention Advocate of the Year award. The reason why? Because the young man whose currently got a career beyond his wildest dreams was once an LGBTQIA+ youth struggling with suicidal ideation.
Lil Nas X's story is not only needed now more than ever before, but some of our most vulnerable children are aching to have the freedom to emulate it. And it is up to us parents and grown-ups to be vocal enough in their world to drown out bullies like Boosie BadAzz. Because no matter how inspiring a celebrity's message may be, it's the adults existing directly in a child's world who have the tangible power to help them know that it really does get better. Lil Nas X may certainly be proving that love can be louder than hate, but in order for it to actually happen, he cannot be the only enduring message of hope that our LGBTQIA+ kids receive.
If you're an LGBTQIA+ youth considering suicide, text "START" to 678-678 and be connected to The Trevor Project's 24/7 crisis line.