A Little Girl Schedules Her Own Daddy-Daughter Date And It's Adorable
Everyone can learn something from this girl who knows what she wants and asks for it.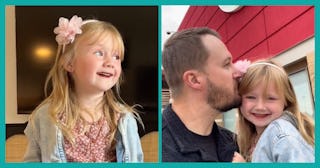 @vintagebound / TikTok
This little girl going viral on TikTok for her adorable daddy-daughter date set up is going places. The adorable youngster gained over 13 million views after being interviewed on camera by her mom about her plans to go on a date with her dad. The kicker? Her dad has no idea.
As her mom, Jo Reames, was cleaning the house, Tea decided she was going to put on something nice, do her hair, and announce that she was ready for a date with her dad.
"Tea, what are you all dressed up for?" Reames — a professional photographer and content creator on TikTok — asks the young girl.
"Going on a date with dad!" she responds with a coy smile.
"Does he know about this?" Reames follows up.
When Tea admits that — though she's all dressed up and has a very specific plan in mind — her dad hasn't been clued in on the daddy-daughter date.
"I wanna call him and then say, 'Dad, I'm going on a morning date with you this morning," Tea says through giggles.
It's giving...a girl who knows what she wants!
Tea even put on some lipstick and eye shadow for the occasion (that her dad has no clue about).
"Where are you going to have dad take you?" Reames asks.
Then, Tea responds with pretty much every woman's idea of a stellar date: "Starbucks and Target!"
"Sounds like a legit date," Reames responds before joking, "Dad's never taken me on a date to Starbucks and Target. So, you'll be lucky if he does it for you."
"Yeah, and I'm gonna get whatever I want there," Tea firmly notes as her mom busts out in laughter.
"That's what I'm talking about. Sounds like the best date ever!" Reames affirms.
Tea then notes that if she's "gonna be an adult right now," she needs to "get whatever she wants."
You gotta love this little girl's idea of what she thinks being an adult means aka doing and getting whatever you want at Target (which I think we can all admit we've done a time or two...).
"I can get whatever I want because it's my day, and I get to do whatever I want," Tea reiterates.
"I love that for you," Reames says.
After the video took off and went viral, several TikTok users were begging to know how Dad responded and if Tea actually got her Target shopping spree.
In a follow-up video, Reames posted footage of Tea and her dad wandering the aisles of Target, snagging pretty much anything she wanted including several Barbie dolls, clothing, and a Starbucks pink drink.
The follow-up video, which also went viral with over 2 million views, caught the attention of several TikTok users who noted how impactful similar moments like this were for themselves in childhood.
"My dad & I did this. He took me to the mall, movie, & pizza. I remember it so well. He's been gone 20 yrs, it's still one of my favorite memories. 🥰" one user wrote.
An older dad chimed in and said, "My 31 year old daughter had me wrapped around her fingers at that age. She owned my heart."
Basically, if you want your partner to take you on a Target shopping spree, seems like all you need to do is just dress up all cute and tell them that they need to take you out. Let little Tea be a lesson to us all in the power of manifestation and setting ourselves up for success!