This Surrogate's Story Reminds Us Women Are Strong As Hell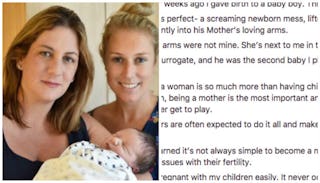 Image via Facebook
"I'm a surrogate, and he was the second baby I placed in another mother's arms."
Pregnancy doesn't happen easily for all women, if it happens at all. Many couples struggle with infertility, and that's where egg donors and surrogate mothers sometimes step in. One woman shares with it's like doing both of those things to help women in their quest to become parents, and her thoughts are both humbling and inspiring.
Mel Holman is a surrogate mother times two, as well as an egg donor. She shared her story on author Constance Hall's popular Facebook page where it's gathered thousands of likes and comments.
Holman begins, "A few weeks ago I gave birth to a baby boy. This is me holding him." She explains that though she gave birth to the infant, she's not his mother. That would be the blonde woman standing next to her. "I'm a surrogate, and he was the second baby I placed in another mother's arms."
"Being a woman is so much more than having children. But for many women, being a mother is the most important and satisfying role that they will ever get to play," she writes, "Mothers are often expected to do it all and make it look easy. But it's not easy. I've learned it's not always simple to become a mother. 1 in 5 couples have some issues with their fertility."
Holman writes that it was easy for her to get pregnant and as a result, it never occurred to her that it was difficult for others. She works as a nurse and one day, came across a woman in tears. "She was devastated after yet another round of failed IVF. All I wanted to do was fix it for her."
She shares that she first donated her eggs to a woman who had been trying to get pregnant for 13 years and now, 18 children have been born using Holman's eggs.
After having helped so many women become moms, Holman sees this process as a lot more than a surrogacy contract and egg retrieval procedure. "While supporting women through infertility, I am constantly amazed at the strength, resilience and determination of these women. Most of all, their endless capacity to love and care for their sisterhood."
"I now understand how similar we all are," she says.
Holman recognizes the mental and emotional anguish women go through as they endure one disappointment after another on their road to parenthood and what her role in their journey means. "I see the fear, the sadness and yet the hope and excitement etched on their faces as we make plans- often after a long journey of multiple miscarriages and repeated IVF attempts. Their dreams of cuddling their child seemingly closer. Knowledge that joining a mother's group or doing the school run could soon be a part of their story."
She also marvels at their strength in the face of that sorrow and all the letdowns they experience before finally becoming mothers. "They are fierce and bold and determined to keep trying, even when they are scared and feel let down- over and over. For many, their perseverance paid off. Now they're Mums who get a rainbow macaroni necklace on Mother's Day just like I do. But it wasn't easy."
Being a surrogate mother or donating eggs is a life-changing experience. Seeing women willing to go through the rigors of a pregnancy or egg retrieval all in the name of giving another woman the chance to be a mother is the very definition of selfless. And women like Holman do it anyway, seeking no glory for themselves. For them, it's all about giving someone a gift they would possibly never have otherwise.
And no matter a woman's role in the process, Holman reminds us we're all pretty much amazing with what we endure to become parents, or help others achieve that goal. "In all these women, donors, recipients, those who never conceived… I found the meaning of strength. Resilience. And love."
In the end, Holman is only proud of the part she plays in the lives of the women she's helped. "Maybe you can't change the world. But you can give the world to someone, and change their life."