Dye Your 2-Year-Old's Hair Hot Pink? Why Not!
by Megan Zander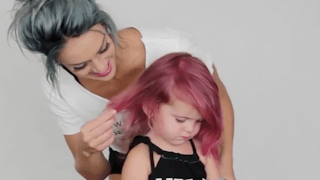 Childhood was made for wild hair colors
Bright hair colors are all the rage right now, and our kids want in on the trend. After all, plenty of cartoon characters have bright purple, red or blue hair, so it makes total sense that kids would want their own hair shade to come from the crayon box too. And we have the power to be the cool moms who let them do it.
RELATED: Best Hair Dye Kits That Are Safe For Pregnant People, According To Experts
When Charity Grace LeBlanc's two-year-old daughter Felicity (aka City) kept asking her mom to dye her hair bright pink, LeBlanc agreed. "She has been asking for pink hair for a long time now," LeBlanc explains in a video she posted on YouTube showing the process in detail. "So I finally bit the bullet and we're doing pink hair." She shared the before and after on Instagram:
LeBlanc rocks some seriously gorgeous teal locks of her own. LeBlanc tells Scary Mommy Felicty starting showing interest in coloring her hair when she saw her mom's bright style. Because what little girl doesn't want to look like her Mom?
LeBlanc used Manic Panic hair dye in hot pink to color her daughter's hair. She researched different dyes for several days before picking one, to make sure it wouldn't damage her daughter's hair or scalp. "The dye that I'm using is a semi-permanent dye, so it will wash out in a little bit," she explains in the tutorial.
The color comes out as a perfect cotton candy pink, and mom and daughter are obviously thrilled with the results. Everyone who saw the look in real life was here for it, even if it didn't last for long. "It only lasted 3 days (which was one of the reasons I picked that product)," LeBlanc tells Scary Mommy. "Whenever we were out in public everyone seemed to love and nothing but nice things to say!"
Of course there were some Instagram keyboard warriors that rushed in to express their horror over the fact that a mom would allow her child to change her hair color at this age. First of all — no one can hear you from under that wet blanket. And second of all, calm down. Manic Panic is an ammonia free, vegan dye that washes out quickly — she's fine.
We even asked an expert, who says semi-permanent colors like this are totally safe. "Direct dyes like Manic Panic are unable to do anything to the hair other than stain the cuticle layer," explains Lauren Warehime, owner of Rock Paper Scissors The Salon in Perry Hall, MD. "They can't lift natural pigment and their molecules are too big to penetrate the hair shaft like permanent color." To put it in layman's terms, "It is literally the equivalent of dying Easter eggs."
Most people who saw the video are firmly on team #pinkhair. There are endless comments from people saying, "Me as a parent," or just showing love for this adorable duo.
"THIS IS SO CUTE I CANT EVEN," says one.
"Aw, this is adorable. My girls have had so many Manic Panic colors in their hair! It's super fun," cheers another.
The video has encouraged other parents and kids to reach for the rainbow hair dyes too. "Absolutely love this," wrote one mom. "Thanks to this my daughter asked me to color her hair."
LeBlanc says she has zero regrets about letting her daughter get creative with her hair color. "I think it's important as parents that we let our children express themselves and I saw this as an opportunity for her to have fun and be her unicorn loving, glitter adoring, pink obsessed two-year-old self," she says. "I loved watching her catch herself in the mirror — she would smile and touch her hair. Totally worth it!"
There's literally no better time than childhood to have crazy hair. So many jobs and professions don't allow unnatural hair colors, so you may as well let your kids experiment with their hair now before they know what the words, "Human Resources wants to talk to you" mean. Part of growing up is figuring out who you are and expressing yourself in a bunch of different ways until you find what feels most authentic to who you are. Temporary hair color is the perfect vehicle for self-expression.
Plus, there's the added bonus of getting to be the Cool Mom, even if it's only until the color fades.
This article was originally published on