This Video Of A Mom Helping Her Daughter Shave Her Facial Hair Will Heal Your Inner Tween
She also has some advice for other moms.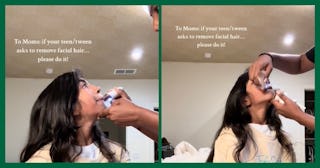 @queencitytrends / TikTok
Puberty is awkward. For parents and kids alike, the weird stuff a tween or teen's body goes through during those rough years can lead to uncomfortable conversations or even deep insecurities. One mom is working to curb that by letting her daughter make her own choices when it comes to her body — including shaving.
Vidya Gopalan — @queencitytrends on TikTok — is happy to help her daughter shave her facial hair hair, something she wasn't allowed to do as a kid, asking other parents to follow suit if their kid asks for a little trim.
As she features footage of her daughter sitting for a facial trim of her lip hair — while "Just a Girl" by No Doubt plays in the background — Gopalan wrote a message for all moms of teens and tweens in text overlay on the viral video.
"To Moms: if your teen/tween asks to remove facial hair ... please do it!" she wrote on the viral video that now has over 6.7 million views.
"Thank you so much. I don't like it," her daughter says to her mom as she shaves her face.
"You don't like it?" Gopalan asks.
"I don't like the way it looks," her daughter responds.
Gopalan explains in the video's caption that she tried to shave her own facial hair when she was her daughter's age, keeping it from her parents.
"I tried doing this myself secretly at her age since I wasn't allowed to do this until HS and it didnt end well 😭🤷🏾‍♀️," she wrote.
Several TikTok users applauded Gopalan's parenting, noting that they wished their mom had helped them out when they were younger with uncomfortable topics like body hair.
"as a girl who got bullied really badly because of my hair, this is so healing 😭," she wrote. Bullying — despite all our efforts to eradicate it — still happens. Of course, teachers need to educate kids on the effects of bullying, spreading awareness about the importance of inclusion and treating others with kindness. But sometimes it's about meeting your kids where they are.
Another echoed, "THANK YOU! I wasn't allowed to even shave my legs let alone fix facial hair until I was 15. It was horrifying."
"the bond between Indian mothers and daughters when they wax or take care of our facial hair together 🥺 my mom used to wax for me when i was her age," another wrote.
"It's her sweet 'thank you so much' and being vulnerable about something she doesn't physically like on herself 😭❤️," one user noted.
One user empathized with Gopalan's daughter's facial hair and said, "Yesssss as a girl who was bullied for her 'mustache' thank you for supporting your girls self confidence ♥️♥️♥️♥️."
Being a tween or teen girl is hard enough in this world. If a mom's support and help can ease some insecurity and send a message about making your own decisions about your body, why not give it a try, and heal some inner child trauma at the same time? Win-win!