A Mom Took Her Kids To A Drag Brunch To Document Just How Harmful It Was
She hilariously documents just how terrifying it wasn't.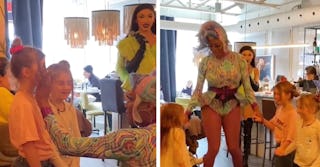 TikTok / @thecuratedlobe
GOP lawmakers have been laser-focused on making sure that our precious, angel children are not permanently damaged by the scary world of drag. Drag story times, drag brunches, and other family-friendly LGBTQIA+ events have been infiltrated with protestors who preach about "traditional family values" — AKA hating others who are different from themselves.
One mom wanted to really test out the theory that several Republican legislatures have in their minds that family-friendly drag shows are "sexually explicit" and filled with stripper poles and exposed private parts.
In a TikTok video — dripping with sarcasm — TikTok user, @thecuratedlobe, documents her journey taking her girls to see a drag brunch.
"With all the controversy surrounding children and drag queens these days, I thought I would go undercover and take our girls to a drag show, and see what kind of horrible trauma they endure," she says facetiously.
The piercing and ear styling studio owner then shows off the group's adorable outfits featuring a bedazzled jean jacket and funky eye shadow.
The business owner then documents the drag show itself. As the first queen appears — Devine Darlin — the mom sarcastically remarks that the outfit the queen is wearing would look much better on her.
"The food was good, at least, because the show was kinda wack," she says alongside footage of another drag queen performing. "I mean, look at this, look at the moves."
The mom then shows footage of the young girls handing over some dollar bills to the queen who blows kisses back at them in a sign of gratitude.
"We had the girls give some tips because obviously we had to immerse them in the whole experience so we could document the trauma afterward," her satirical narration continued.
In the most wholesome moment of the entire video, @thecuratedlobe then shows the girls being taken out of the audience to be in a dance competition with other kids at the brunch alongside the drag queens.
Devine Darlin even applies sparkles and gems on the girls' faces.
"How dare they put sparkles on the girls, making them feel all sparkly and shiny and part of the show — just not cool," she says.
The girls then dance and sing to "Baby Shark" with the queens until ending the fun with a sweet group hug.
She cuts to footage of the girls beaming ear to ear and says, "They definitely hated it. So, we'll try church next Sunday instead."
The TikTokers comment section was flooded with words of support for the mom's move to take her kids to a drag brunch.
"Yes mama raise them with love in their hearts and sparkles on their face!!!!! Love it," one user wrote.
Another echoed, "This is amazing!!! Soo fun!! I bet they wanna go again!"
"They absolutely do!" she replied.
In 2023, there have been at least 26 bills introduced in 14 states by Republican legislators taking aim at drag events. Drag just happens to be the hot topic right now for Republicans to get worked up about even though there's literally 100 other things they could try to fix like the growing mental health crisis or gun violence.
"I am not trying to ban drag shows, and I'm not trying to take away anyone's First Amendment rights," Tennessee state Sen. Jack Johnson (R), who filed the first drag bill on Nov. 9, said in an interview. "But you should be able to take your kids to a public park or library and not be surprised by seeing sexually explicit entertainment taking place."
Republican Gov. Bill Lee later signed a bill that actually does bans drag shows in places where minors might watch them and on public property.
"Just like we wouldn't want strippers on poles in schools — even if their body parts are not exposed — we don't want drag performers to be present in front of children," said Idaho Family Policy Center President Blaine Conzatti, who wrote another bill that a Republican state lawmaker introduced.
It's mind-numbingly confusing that Republican legislatures are determined to ban something fun and expressive and inclusive but turn a blind eye to the things that are actually harming kids today like guns and, yes, churches.
In 2020, for the first time in decades, more children ages 17 and younger died from guns than from motor vehicle crashes.
A 2018 study found that of approximately 300 alleged child sexual abuse cases in protestant Christian congregations the overwhelming majority took place on church grounds, or at the offender's home, most frequently carried out by Caucasian, male clergy or youth pastors.
If I have my facts and figures straight, that's over 30,000 kids killed from guns, about 300 children stepping forward with claims of sexual abuse in the church, and lastly, a whopping zero kids harmed or murdered at a drag brunch. Got it.
But yes, dancing to "Baby Shark" with someone in dress-up is what's hurting the kids in this country and we must do something about it now.