A Mom Tracked Down Her Daughter On Roblox & Asked Her To Defrost The Lasagna
She had been calling her daughter's phone to get ahold of her before logging onto the game.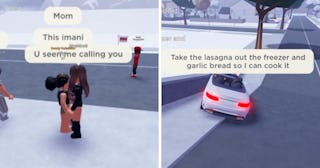 Facebook
Remember when your mom used to call from work on the landline and ask you to take the chicken out of the freezer so that it could defrost before she got home? Well, things have changed but also they've stayed the same.
But what happens when you're trying to get a head start on dinner but your kid isn't answering the phone? You track them down in the virtual world.
Chicago resident and mom — ChaCha Watson — knew exactly how to get a hold of her 11-year-old daughter — Miracle — after she wouldn't pick up the phone. Watson logged into Roblox, a gaming platform, to ask Miracle to take dinner out of the freezer before she got home.
After sharing screenshots of their hilarious conversation on Facebook, Watson's post went viral. "When my baby don't answer the phone I pull up on ROBLOX 😭" she wrote in the caption.
This is entirely too real.
Watson, who has been playing the game as a way to bond with her daughter, told TODAY.com says that she could see which game Miracle was playing when she signed on — a simulation game called Berry Avenue.
"She just so happens to be in the beginning stage when you first pop up on the game. So when I popped up, she just so happened to pull up," she said, adding that she got into a car with her daughter's avatar in the game. "And I said, 'You see me calling you!' and then she was like, 'I'm sorry mom.'"
In their exchange on Roblox, Watson then said, "Take the lasagna and garlic bread out of the freezer so I can cook it."
Watson, who is also a comedian, told TODAY that she wanted to share the funny moment as a way to show the hilarious lengths moms will go to in order to get through to their kids.
"I was like, 'People got to see what I go through to get in touch with my child,'" she said.
Watson also told TODAY that she loves playing Roblox with her daughter. As a single mom, she is working twice as hard to provide for her family and finding a common interest with her daughter has helped them connect.
"Being a single parent, you just want to make sure that you're spending time with your kids. That's really important to me — to make sure I'm spending quality time with her. So I downloaded Roblox and ... that was just one of the best things ever," she said.
She recommends that all parents try out whatever game or hobby their kids are interested to learn more about who their kids is and as a great way to connect and bond.
"Try actually going and playing with them, it's actually really fun and my daughter, she really loves it," she said.
Watson also jokingly recommended that parents don't "just download it to tell your kids to do things."