I Would Like To Request A Four-Day Aaron Rodgers Darkness Retreat, Please
I will emerge a new mom, I promise.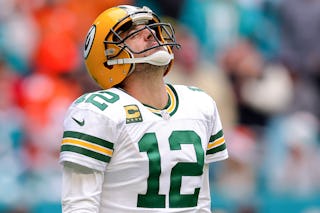 Photo by Megan Briggs/Getty Images
This week, 39-year-old NFL quarterback Aaron Rodgers announced that he will spend four days at a "darkness retreat" after the Super Bowl in order to contemplate his future football career with the Green Bay Packers in peace.
I would also like a four-day darkness retreat, if we're giving them out.
I think I deserve it. While I haven't led the NFL in touchdown-to-interception ratio in six different seasons, I am a single mom with two kids who works two jobs, which is at least a little comparable. I just need a little four-day breather, completely alone in an inky abyss, and then I think I'll be ready to continue living my day-to-day life.
I would love if my piles of laundry, teetering stack of dirty dishes, pages of to-do lists, and co-parent would all fade into complete blackness for 96 hours. It would give me a little time to think.
Maybe I'd take a refreshing 83-hour nap, who knows?
I think that kind of break, isolated in endless night, would allow my brain to reach a fuller potential, and perhaps remember where in the house I put my family's passports last month other than that it was somewhere "really safe" and somewhere "I will totally remember."
And as I sat in the pitch darkness, I think I would recover more and more.
After one day in the darkness, I bet I would no longer have such a powerful urge sometimes to leave my children in the baby safe drop at the fire station down the street. They are 8 and ten years old.
After two days in the darkness, I bet that I would have the power to finally decide to leave the mommy group chat that makes me feel like an incompetent monster who doesn't always include a protein, a complex carbohydrate, and a healthy fat in my kids' Planet Boxes.
My kids don't even have Planet Boxes, to be honest. They have knock-offs. But it would be really hard to tell the difference in the dark.
After three days in the darkness, I'm hoping that I will remember my middle name. It kind of floated out of my memory when I was 38, when I needed room in my brain to learn New Math and remember my kids' shoe sizes.
On the final day of darkness, I think maybe I would want to see things again. And not just the countenances of my children's angelic faces, but also things like the 12th volume of Diary of a Wimpy Kid, which I am forced to read out loud before bed each evening.
The darkness retreat could even take place at my own house, I'm thinking, as long as someone removes my children and gives me a little time to pick the Legos off the carpet.
I assume the darkness retreat is also silent. If it's not, I'd like to request that feature as an add-on, even if it costs more.
If I could bring a small book light and some fluffy, smutty books on the darkness retreat, you would understand that, right? And I assume there are easily accessible snacks there as well. This is sounding really great. I really need this break in darkness.
And I can have my phone, right? Ha, no, of course not. I was just joking.
In conclusion: I know I don't need to contemplate retirement after a banner 18-year professional sports career, but I think the time away at a darkness retreat, in the gloaming black murk, would be pretty nice. I, Sarah Something Aswell, just need to rest my eyes for a minute, find my passports, reclaim my humanity, and remember how to parent. Just give me four days.