This Mom Has A Creative Trick For Keeping Pediatrician Visits Body Neutral
The internet is applauding the body positive mom.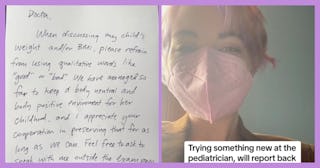 @general.caronobi / TikTok
Whenever I go to the doctor and the nurse promptly asks me to step on the scale, I cringe with dread. It's not that I'm terrified to know my weight (I don't pay attention to it!) — it's more that I don't love any sort of conversation with the doctor about my Body Mass Index (BMI) and whether it's "good" and "bad." (I don't love the passive aggressive notes about fruits and vegetables and daily exercise in the visit summary sheet, either.)
So when I have to take my daughter to the pediatrician for a check-up, and the doctor shows where she is on the height and weight growth chart, I like the discussion short and sweet, without a whole lot of emphasis on it.
But sometimes it can be hard to articulate to a doctor or nurse how you feel about BMI or body image discussions. Luckily, one mom's clear and to-the-point letter is a step in the right direction.
TikTok mom Caroline is making sure that her daughter's body neutral mindset stay intact even at the pediatrician's office. She posted a TikTok video featuring a letter that she wrote for her daughter's pediatrician's office, explaining that she's fine with BMI being mentioned, but she will not tolerate "qualitative words" during the discussion.
"Trying something new at the pediatrician, will report back how it goes," Caroline wrote in text overlay on the video while featuring the letter. She captioned the video, "Don't judge my handwriting i was writing in the car on top of a captain underpants book lol #bodyneutrality #bodypositiveparenting"
The letter reads: "Doctor, When discussing my child's weight and/or BMI, please refrain from using qualitative words like 'good' or 'bad.'"
"We have managed so far to keep a body neutral and body positive environment for her childhood, and I appreciate your cooperation in preserving that for as long as we can. Feel free to ask to speak with me outside the exam room if you have any concerns. Thank you!"
Not only does this letter perfectly make a simple request without undermining any doctors, the letter form also ensures that her daughter won't feel embarrassed or shamed.
Caroline live updated the pediatrician's visit in the comment section on her video.
"First impression from the nurse taking the note was great, she took her time reading it and gave me a big thumbs up and said thanks," she wrote.
"The 'new' part of this is a note, last year I just told the doctor straight up in the appointment and it didn't go very well."
In a follow-up video, Caroline detailed how the pediatrician visit went after she gave the letter to staff.
"We made it back home, and I'm happy to report that it went really well," she said. "The nurse made no comment when she was weighing my kid, and when the doctor came in, she asked me if it was okay to show a growth curve with no numbers on it."
"And she told my kid, 'Your body's growing exactly the way it wants to grow. Hooray!'"
She goes on to say that the doctor just asked a lot of questions about habits and her daughter's day-to-day life without any mention of her weight or body shape.
"There was no mention of her weight, of her body shape, of anything like that. Just questions about how do you feel? Are you feeling good? Are you able to exercise and eat lots of fruits and veggies and meats and balanced meals and just checking in on how she felt? There were no discussions about like restricting sugar or anything like that. No restrictions at all," she said.
After Caroline's video went viral, several TikTok users chimed in on the post, thanking the mom for her progressive move, wishing they had someone advocating for them when they were young.
"As a kid who was deeply scarred by my pediatrician's comments about my weight, thank you so much for doing this for your child," they wrote.
"This was very healing for my inner child, hope your girl stays this way ❤️," another wrote.
One user shared, "I am mid 30s and still vividly remember my pediatrician commenting on my big thighs when I was around 8."
Another echoed, "When I was 14 my dr recommended weight watchers, I was so thin. Slightly over the 'right weight' it always stuck with me."
There is nothing constructive about commenting on a young person's weight, especially when it comes to BMI. There is also no surefire way to know if a BMI reading is 100% accurate based on certain variables such as age, muscle mass, and weight distribution.
Despite this, The American Academy of Pediatrics recommends using BMI to screen for overweight and obesity in children beginning at just 2 years old. If that's the protocol for most pediatrician's office, at least parents have the opportunity to set some healthy boundaries for their kids.