My Kid Cooks Dinner Now, & It's Incredible
After all these years of feeding these kids, one of them is finally feeding me.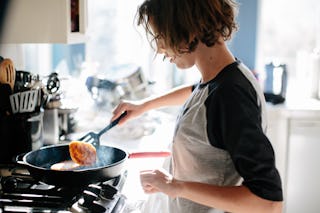 Cavan Images/Cavan/Getty Images
I had shrimp tacos for the first time the other night, and they were one of the tastiest things I've ever eaten. Here's the best part: I didn't make them and I wasn't at a restaurant. My teenager made them.
She works part-time as a food server at an assisted living facility and came to me a few months ago asking if she could make our family dinner one night a week. Gosh, that job is really paying off in more ways than one. I was overjoyed that she wanted to help and that she was learning a really important life skill. I knew it would be fun for her (and a night off for me) but I had no idea it would be a game-changer for our entire family. Finally, after all these years of feeding these kids, one of them is feeding me.
My daughter loves finding recipes and feels inspired to try new things all the time. She's always been an adventurous eater who'll try anything, who fell in love with raw oysters, calamari, and mushrooms when she was very young.
At the beginning of the week, she makes a plan and sends me a list of ingredients, and I can't believe how much easier it makes my life for somebody else to handle just one night of the week.
One night she made chicken curry, which was delicious. She's made a few different kinds of tacos including those wonderful shrimp ones. This week we had a great beef stir fry, and she's even gotten her younger brother to try roasted vegetables. I've been trying to get him to eat vegetables for the past 16 YEARS.
She doesn't just make dinner either, she creates a whole experience by setting the table with nice cloth napkins, and arranging everything on platters. When her brothers first came downstairs to eat and looked at her creations and fancy table, they loudly expressed doubts. They were clearly just trying to get a rise out of her, but she really showed them — by the end, they were blown away, too. Part of was to tease their sister which is funny because boy, did she prove them wrong.
Now her siblings look forward to these dinners and they are always asking her what she's going to make next. My kids are bonding, and my daughter has gained a lot of self-confidence.
It's also teaching her the wonderful lesson of how hard it actually is to plan dinner, make it, and clean up for the entire family. Her feelings get hurt if someone doesn't finish their meal. She now understands what it's like to forget something at the grocery store and deal with cranky diners complaining that we're missing something. She has compassion for the grind of making dinner every night even when you're tired. She gets it now, and there's no more complaining when I just toss a frozen pizza in the oven.
It's a lesson I didn't think my kids would learn until they became parents. I can see how much it has opened my daughter's eyes. Hopefully, she will inspire her brothers to get in the kitchen and start helping out too. Can you imagine if I got all three of them to cook for me? It's life-changing!
I look forward to these nights when my daughter cooks dinner. I get to relax on the sofa and watch Friends reruns while I smell all the deliciousness coming from the kitchen. I can't tell you how giddy it makes me to just sit back and relax.
All of my kids make sure they are home for her dinner. We all linger around the table a little longer, and when we are done my heart is so full. As a mother, you can't ask for a better evening than that!
Katie Bingham-Smith is a full-time freelance writer living in Maine with her three teens and two ducks. When she's not writing she's probably spending too much money online and drinking Coke Zero.