The Cutest, Coziest Toddler Nap Mats For Snoozes Away From Home
We only recommend products we love and that we think you will, too. We may receive a portion of sales from products purchased from this article, which was written by our Commerce team.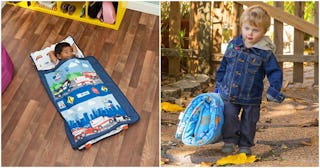 Amazon
Toddler nap mats are a baby gear must-have if you're on the go. After all, naps are one of life's little gifts—life's very, very necessary gifts. But when a nap has to happen away from home and the comfort of a child's own bed, it can be a challenge and result in no nap at all, which is disastrous for everyone involved. Nap mats provide familiarity and a cozy place for toddlers to snooze, whether they're at daycare, preschool, kindergarten, on a play date, on a family trip, or even just in the living room at home.
What is a nap mat?
A nap mat is a comfy and cozy cocoon for your little one to sleep in. A majority of models come with an attached blanket (so no worries about losing it!) and most have removable pillows, too. Based on their size, nap mats work best for kids ages 2 to 5 who still need some extra zzz's during the day. (Fun fact: Nap mats for adults are a thing, they just may not be as appropriate to use at the office or social gatherings as, let's say, preschool.)
According to pediatric sleep consultant Sierra Dante, nap mats can make it much easier for LOs to fall asleep. "Children sleep best when they have their own space to fall asleep in," Dante tells Scary Mommy. "Even children who prefer to have a parent help them fall asleep at home can nap well on their own at daycare."
Are nap mats necessary?
The benefits of having a nap mat outway a tired and cranky kid, mama. Especially if your child takes naps at school, we'd say nap mats should be high on your toddler gear must-have list.
"Nap mats are one way of delineating personal space for toddlers to nap in a crowded room," says Dante. "Mats also provide a small amount of cushioning for comfort. Most toddlers sleep in cribs at home until approximately 3 years of age but some children are moved to regular beds sooner. Mats on the floor can be a middle ground that is appropriate for both those used to cribs and those in beds at home."
Nap mats also make things easier for your child's daycare or school. Dante mentions that nap mats are easier to store and allow for more flexibility without having to require separate rooms for naptime. It's really a win-win!
How do I get my child to sleep in a nap mat?
"The best way that parents can help their children nap well at daycare is to help their children learn how easy it is to fall asleep for themselves, in their own bed, without a parent in the room. Children who are confident in their ability to fall asleep easily will find it just as easy in a childcare setting," Dante adds.
Which type of nap mat is best?
There are different types of nap mats to consider when buying one for your kiddo, the most popular being roll-up mats, which offer the most comfort and portability. Stackable nap mats are also a thing, which you might remember from your childhood, but back then, they weren't nearly as comfortable as they are now, which you also might remember. In any case, if you can find a nap that your kiddo actually likes, you may not have to address them by their first and middle name to get them to lie down and close their eyes (but no promises).
We rounded up the coziest and snuggliest nap mats your kids will love, but before you make your purchase, here's a tip you might want to consider: Buy the nap mat a few weeks in advance so your child has plenty of time to get used to it. That way, when it's time to go to school (or anywhere else), they'll have something that feels familiar from home.
Best Toddler Nap & Sleeping Mats
Chances are, your kids are the sleepiest after watching a few episodes of CoComelon. Bring the excitement to naptime with this CoComelon nap set, which comes with everything your child needs. They'll get a pillow, a soft blanket, and the mat itself. It's also easy to roll up, making it portable for their grandmother's house or vacation. "This is adorable! Quality is great and my granddaughter absolutely loves it," raved one Amazon customer.
This nap mat from TILLYOU may be our favorite because of how cute and simple it is. The navy color with the adorable cartoon-like star and moon details is all your kiddo will need for a great nap time. Bonus points for the removable pillow! You can grab this nap mat in one of eight adorable patterns.
A Mom's Choice Award Winner, this BPA-free mat is the most popular mat for toddlers and preschoolers. It's thick and durable with an attached super soft pillow and blanket, which is lined with 100 percent cotton flannel for maximum comfort. "My son absolutely loves this sleeping [bag]! The print is so adorable and the colors are bright and beautiful. He wanted to unroll it and climb into it as soon as we took it out of the box," said one reviewer. "The inside of the blanket is very soft, it almost feels like the inside of a pair of new sweat pants. The pillow [is] very padded and comfy and the padding for the child to lay on is also well padded."
Looking for a nap mat that'll last for some time? Your kids will never get tired of the cute, yet subtly sophisticated designs of the NEDVI. It's cozy, zipper-free, and able to be easily transported with a handy carry bag that comes with it. When rolled up, the bag is so light that even a child who's three can carry it with ease. And parents, you'll love the fact that this nap mat is machine-washable. Because, accidents happen.
Weighing in at just over a pound, this ROLLEE POLLEE nap mat just looks comfortable. And, it's incredibly convenient for daycare, since the pillow is attached, meaning there are fewer parts to accidentally lose. This is also fantastic for school since it comes with two tags you can label, so that your child's mat doesn't get confused with another student's. You can get one in green, pink, blue, yellow, red, or purple.
Check out this nap mat built for daycare and preschool nappers. The mat is on the thinner side, so it works best on top of a cot. It comes with a removable pillow and fleece blanket, all of which are machine washable. You can even choose from 12 cute designs. One reviewer wrote, "My son's daycare provides cots for all children to sleep on — he is very comfortable on his cot, so purchasing a mat that was really thick wasn't part of my decision-making process. I wanted something that was lightweight, easy to wash, and cute. This is exactly what I was looking for."
This extra cozy nap mat is conducive to getting the best nap possible. In addition to the dreamy floral design, this mat has an attached pillow, super soft minky blanket, and a built-in name tag. It can also be rolled up and has a convenient handle. One reviewer wrote, "I absolutely love this nap bag. First off, it is as beautiful as it looks. I love that it is cotton, so my child doesn't sweat in it. She uses it at preschool for nap time and I can honestly say almost every parent asked me where I ordered it from."
This Paw Patrol pick is a must-have for any kiddo who loves the show. It includes a padded mat and blanket that's machine-washable and OEKO-TEX certified for safe materials. Roll it up, grab the carrying strap, and go!
Best Preschool & Kindergarten Nap Mats
We've got two Wildkin nap mats in the roundup because parents and kiddos are truly obsessed. With over 3,000 reviews on Amazon, they're definitely doing something right. Choose from over 15 adorable designs. One reviewer wrote, "Got this for nap time at daycare. My almost 2-year-old loves it. She had never slept in anything besides a pack-n-play or a crib. The transition was flawless. I think it's a little thin, but if it were any thicker, she wouldn't be able to carry it. It's the perfect thickness for a toddler."
The perfect nap mat for any kid who's obsessed with Frozen. (That's all kids, right?) This polyester mat measures in at 44" x 33", and is machine-washable. There are multiple other designs worth checking out, just in case your kid is feeling more into Mickey, Minnie, or Toy Story. Regardless of the design, parents can't stop talking about how long these mats last. "They have lasted through hundreds of nap times and sleepovers," said one Amazon reviewer. "I have washed these over and over and their color have held up."
This affordable nap mat has lots of fun designs to choose from. The roll-up design and carrying strap make it convenient to carry the mat to and from school. It has a name tag and an attached pillow and it even includes a down blanket. One reviewer wrote, "It is exactly as shown, the design is bright (my child loves the princess design), [it's] machine washable, and even the pillow has a decent amount of 'fluff '- the whole product is lightweight which is great for folding up and carrying but it doesn't feel 'too thin' at all." You can get it in up to 14 prints, and it's good for up to age six.
This mat comes in 18 designs, all equally as cute as the next — with the exception of Baby Yoda who's got the rest beat. (Who can resist Grogu?) It comes with an attached pillow and blanket, but according to reviews, it's a bit thin, so it would provide the most comfort if used on top of a cot or a soft surface. The mat rolls up with a carrying strap and also has an attached name label.
This cute nap mat set comes with an attached sleeping pad, plush blanket, and pillow that can be removed when machine washing. It comes in four designs and can be rolled up and carried for convenience. Plus, it's easy enough for kindergartners to roll up themselves. It's also very durable and will last through plenty of washes, as one Amazon reviewer found. "I wash it every week in warm water and dry, so about 100 times now. It's still going strong. This thing is a tank. [It] has stayed super soft," they wrote.
This inexpensive nap mat brings the "fun" to nap time — well, as much as a nap mat can, at least. It rolls up with velcro closure tabs and has a convenient carrying handle. The quilted mat has an attached ultra-soft blanket and pillow and is 100 percent machine washable. Choose from eight fun designs.
Disney fans will love this sweet toddler mat featuring Minnie Mouse herself. This mat comes with a pillow and blanket, and it rolls up quickly with an attached carrying strap. It's a fun mat to keep at home or to take to daycare or preschool. Sweet dreams!
Before clicking "Add To Cart" on that Minnie mat above, you might want to check this one out as well. This foldable, Minnie-centric mat is better for casual rests and even reading. It doesn't come with a blanket or pillow, but does have an attached, standard-sized pillowcase that matches the mat itself. If Minnie isn't big in your home, you should check out one of the other 15 popular character choices.
Best Daycare Nap Mats
Ideal for both a daycare or preschool situation, this nap mat suit from Hi Sprout is a good way to ensure your child is catching some Z's during the afternoon. With its ability to morph into a sleeping bag, you'll find plenty of uses for it even outside of daycare. It's got a removable pillow that you can take out before throwing in the washer, and is fairly easy to travel with.
This tri-folding nap mat made of foam has an ultra-soft bamboo cover that's removable and machine washable for easy care. The mat is thick and cozy, and it's easy for a child to assemble alone. It doesn't come with bedding, but with your child's favorite blanket and pillow, nap time will (hopefully) be a breeze.