Why Raising Tweens Is So Freaking Hard
by Karen Habashi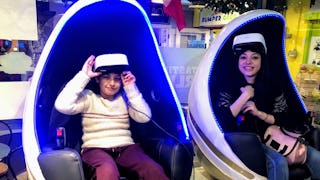 Karen Habashi
Back to school signs were on every shop window, promotions were everywhere. It was that time of the year again to spend a small fortune for those few first days at the beginning of the school year, where kids flaunt their new bags, gadgets and styles.
I bravely took my tween (or whatever they call an almost hormonal, always angry, ten-year-old) for a shopping trip. Although I sometimes dread it, I always use it to bond with her and try to understand her "new" character.
"No, Mom, I don't want a Disney character on my backpack," my daughter told me in a strict tone while we were shopping for her new backpack.
"But you love Ariel, you even asked for an under-the-sea themed bedroom and we did that. Isn't she your favorite?" I tried to comprehend how can she change so fast, in my weak attempt to speak to the little girl with pigtails, as I still see her.
"Mom, that was, like, many years ago. I was still a child. I was, like, seven," she said with a smirk and without even looking at me while going through the backpacks hanging casually on the racks.
"You know you're only ten, you can still be a child. And besides, even when you have your own kids, you will still be my baby girl," I told her while trying to hug her.
"Mommy, I love you, but I'm not a kid anymore," she said while trying to get free from my hug.
I always thought I'd be well prepared for the day she tells me she doesn't need me anymore to help her. I used to daydream about the day she'd make her own snacks, wash her clothes or even help with the dishes. I thought I would be happy, but I was sad and my heart broke. I wanted to cling to those years where I'm still a superhero in her eyes.
As I followed her across the shop, asking her to wait for me, I remembered how I used to follow her when she started to learn to walk, when I was always a step away to catch her if she fell. Now she's walking at a fast pace, and I'm trying to keep up with her. Now she's too embarrassed when I hug her in front of anyone.
Was it really three years ago when she spent hours playing with her dolls, and I sat there listening to her role-playing, while secretly laughing at the dialogue she made?
Now she wants nothing to do with dolls — but why would my baby want to grow up so soon? What's so alluring about adulthood in her eyes that makes her want to leave all the fun of being a child behind?
Oh, God, will she date soon? Is that even on her mind?, I thought to myself when I saw two teenagers wandering next to us holding hands.
I looked around and couldn't see her anywhere. My heart raced. I lost my baby in the shop. I was tempted to shout her name, but then stopped myself when I saw her in front of me, in the last place I imagined her to be after the brief conversation we had.
My heart melted when I saw her glancing at a toy. She was standing in front of the toys section, and there it was, a look of doubt and hesitation in her eyes.
I sensed a struggle within her. She wanted to reach for that new toy. She is curious. She still wants to be a little girl, but at the same time she wants to act all grown up.
I moved next to her. "You know something, growing up is so boring," I said.
"Thank God I never did, and never will," I said cheekily while pointing to the Batman shirt I was wearing.
I reached and grabbed the toy. "Oh well, I can buy it for your brother and sister," I said. "They're still kids after all."
I looked at her eyes as they sparked. She knew I made the decision for her. She will have that toy, but it will not be for her; she will still act all grown up.
"Yes, they are, and I can help supervise them," she said with a huge smile on her face, that smile my little baby girl always had when she got a new toy.
And right there I knew, she might be growing up, having different attitudes and likes, but deep down she will always be my baby girl. She still needs my guidance and my direction, but probably in new ways that I need to learn along the way.
As a mother I thought it would feel great to have a kid who is almost independent — and after all those snacks and screams and sleepless nights, that would feel great. But it didn't. It felt the opposite.
I suddenly felt stuck. Where is that "Parenting For Dummies" when you need it?
Those mixed emotions I had made me think of the many ways I need to change in my parenting style: the mix of authority and friendship that needs to be present in this stage of her life; finding the balance between giving her the freedom to make her own choices, mistakes and decisions, while carefully keeping her in check and guiding her.
And no matter what, I just know she will always have that beautiful spirit of a young girl inside her. Maybe life is just forcing her to toughen up. But in the words of Maya Angelou, "My wish for you is that you continue. Continue to be who and how you are, to astonish a mean world with your acts of kindness. Continue to allow humor to lighten the burden of your tender heart."
It was easy when I used to hold her hand and lead her around, but now I need to learn to hold her hand and walk beside her.
This article was originally published on