by Katie Vinson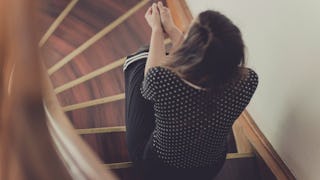 altmodern / Getty
Today, I needed my mom, for only she knows every fiber of my being. For only she knows our journey together from day one–each twist, each high, each low. For only she knows my heart, bandages and all.
Today, I longed for her wisdom that I foolishly shunned during my younger years. How silly was I to roll my eyes at her when she provided me with such valid points. How heartbroken she must have felt countless times watching so helplessly as I fell, just trying to do her best to catch me, or at least break the rock-bottom falls.
How silly was I to think she didn't understand me, when it was simply that I just didn't understand myself, or my world for that matter. How frustrating that this must have been when she just couldn't get through to such a stubborn daughter. How terrified she must have felt when she almost lost me, in so many different ways.
Today, I needed my mom. Today, I needed the reassurance that I'm not screwing up. Today, I needed to hear the words, "Katie, you are a great mom, and you are doing just fine." I needed to hear this over and over again, because my self-doubt was screaming and my defeat was deafening.
Today, I understood the gravity of being someone's Mom. I understood the internal silent battles and the meticulously exhausting thinking. Today, I felt the enormous weight of guilt when a child struggles. I'm wise enough to know it's only preparing me for when my child will inevitably go down a path less smooth–less easy, less safe.
Today, I sat down to reflect and I saw my mom in an entirely different way. I never noticed the endless worry in her eyes, the knots in her neck, or the pit in her stomach, until now. I never knew about her sleepless nights filled with worry about each and every life struggle, until now.
I never appreciated the strength it took to be a mom, my Mom, until now. One thing hasn't changed: I never saw her as anything less than great. I certainly never saw her give up, and I most definitely never saw her give herself any credit with raising me.
So, today, I struggled. I thought I was far less than great. I thought about just giving up. But then today, I stopped. I stopped the agonizing self-analysis of what I did wrong. I stopped trying to reach for perfection. I stopped the self-doubt. I stopped being so hard on myself, and I gave myself a little credit. That's all she has ever wanted for me—her stubborn, hard-headed, slightly wounded, but strong-willed child. Today, her voice was finally heard.
Today, I needed my mom, for she has taught me more than she realizes and has helped me more than she knows. Her lessons resonate with me during my role as a mom, and her unconditional love propels me through the hard times. We share a mutual understanding of being a mom, yet the mother-child bond is always there. Sometimes, a child just needs her mom, even if that child is 37.
Today, I see you, Mom, for all that you have gone through as a mom, for all that you have done as a mom, and for all that you continue to do as a mom. Today and every day, I love you, for I also know your heart, bandages and all.
This article was originally published on