it's really, really simple
A New Study Reveals What Moms Really Want For Mother's Day & It Isn't Flowers
Before you run to the store, know what most moms really want.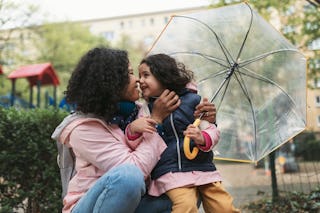 Halfpoint Images/Moment/Getty Images
When we think about what to get the mothers in our lives for Mother's Day, the traditional gifts for the holiday come to mind: a big bouquet of pink and purple flowers. A charm bracelet or necklace that reminds her of family. The dreaded robe (you just got a robe for Christmas, but whatever).
But while these are traditional gifts for mom, they aren't necessarily the thing that mothers actually want for Mother's Day. A new poll of 2,000 moms commissioned by LEGO Group and Moonpig and conducted by OnePoll, found that the thing moms want more than anything else in the world is time. Just time. Time to rest. Quality time to spend with their family. Time to go not be the super mom they are every other day of the year.
Specifically, the poll found that a solid 58% of moms want free time and to be able to "drop everything" for Mother's Day.
What would they do with that free time? Moms said they'd like to read a book (42%), watch some TV (44%), engage in a favorite hobby or creative activity (30%), or practice mindfulness (11%). Ten percent confessed that they loved to go to the bathroom by themselves. Roses didn't even make the list!
Other relaxing activities mom want? Talking a walk, listening to music, exercising, taking a nap, and taking a bath in peace all filled out the top ten.
Fifty-one percent of moms said they'd love to spend quality time (read: time when they are relaxing, not managing everyone's needs) with their families on their special day, too, and 16% said that making a new memory is important.
The poll also asked why moms need time, and 65% explained that they were busy with work, while 58% said that they were too busy doing household chores. So, on Mother's Day, maybe think of a way to have her avoid both of these things so that she can recharge and hear herself think.
And if you give the mom in your life a gift that's not the gift of time, make sure she has time to use the gift. If you give her some books from her favorite author, also give her the gift of time to read them. You got her a new pajama set? How nice of you! Now send her off for a nap while you take the kids out of the house.
Better yet? Give her the time and space to relax — a night away from the family, or clean house with no laundry to worry about, or a day trip away from all of the normal responsibilities. Bonus points if you can work in a little quality time with the family over the weekend (in which she is not organizing or managing the special event).
And, of course, ideally, maybe we can work on creating a world where moms have so much support from their partners and family year-round that when it comes around to their special day of celebration, they don't have to ask for time to go to the bathroom or catch up on sleep. Maybe at that point, they'll want some flowers. Just an idea!