Newsflash: The PTA Can Actually Be Super Fun
Don't believe the rumors.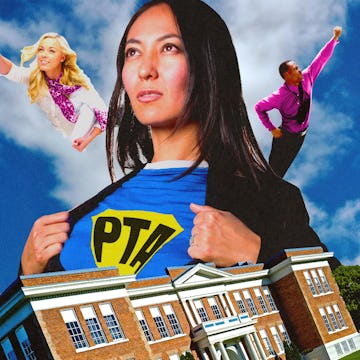 Back to school is upon us. Nothing used to strike more fear into my heart than "P-T-A volunteers needed" showing up in my email inbox. We've been conditioned to believe that PTA moms are public enemy #1. In movies, the PTA mom is often cast as the villain and portrayed as a power-hungry-mean-girl-drama-queen who is out to terrorize poor unsuspecting parents with judgment and requests for donations or volunteers à la Christina Applegate's hilarious parody of the type, Gwendolyn James in Bad Moms.
I get it. I used to groan and avoid the PTA moms too. I work full-time and have three kids; the last thing I thought I needed was to get roped into all that. It was a hard pass from me.
For years, I would attend these school events and marvel at how fun and impressive they were with nary a thought of exactly how these events came together. In my mind, "the school" — or maybe fairies, or perhaps even the elf on the shelf — put them on. They just sort of magically came together. When you only see the end result of something, you really don't give a lot of thought into how much work it took to make it happen.
I carried on like this for years until I was approached about joining. I was about to politely decline, citing lack of time, when I remembered the woman asking me works full-time as a doctor and also has three kids. If she could do it, I could do it.
I braced myself for a year of the kind of scandal, theatrics, and melodrama that I've seen depicted in movies. I imagined a bunch of real housewives-style moms with nothing better to do than gossip, judge, and meddle, a la Gwendolyn.
It turns out my preconceived notions were completely false. What I found were parents using their skill sets from past and current careers (accounting! public relations! event planning!) and working their tails off to tirelessly provide free labor and expertise to aid our school in running efficiently and effectively. Bonus: they're drama-free! Turns out the PTA is actually a blast.
Even though it's been hard work, it's also been fantastic because of all the new friends I've made. Working together on our common goal fosters a profound sense of camaraderie. As a parent to elementary-age kids, I don't typically have much interaction with parents of older kids, but because of the PTA, I've made friends that I wouldn't normally have had the opportunity to meet.
It's also been really beneficial to get a front row seat to how the school runs. I stay in the know about school information and happenings because the PTA often hears news first. And because I'm frequently at the school, I've had the unique opportunity to form deeper relationships with the administration and teachers, which is invaluable.
There is so much to be done, but if no one steps up, it just doesn't get done, which only hurts the students. I get to see how all this hard work comes together with countless people toiling behind the scenes to make school events and programs run smoothly. It's a truly thankless job that the school cannot function without. Of course, I can't speak for all schools, but our PTA makes the school better. Much, much better. In many ways you don't even realize.
Of course, not all PTAs are like mine. But the next time you're tempted to criticize the way things are run, instead think about getting some skin in the game and pitching in to make it better.
After all, we are just parents, trying to do our part and united in our desire and mission to see our school succeed.
Christina Crawford is a Dallas-based writer, guacamole enthusiast, and mom to three feral little boys. She spends her days putting out fires (actual and metaphorical) and trying to keep goldfish alive. Her words have appeared in Newsweek, HuffPost, Health Magazine, Parents, Scary Mommy, Today Show Parents, and more. You can follow along on Twitter where she writes (questionably) funny anecdotes about her life at @Xtina_Crawford