What If It's Not Love At First Sight With Your Adopted Child?
by Jill Robbins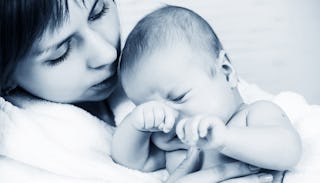 My son is one of the bravest people I know. That seems like a weird thing to say about a 5-year old, but it's true. My husband and I adopted him from China when he was three. In one afternoon, his life was completely turned upside down … and so was mine.
He woke up one morning in familiar surroundings. He'd spent his very last night in the orphanage that was the only home he knew. The woman who'd cared for him since infancy probably told him how grand it would be to have his own forever mommy as she helped him dress – but when you've lived your life in a room filled with rows of cribs, you don't grasp the meaning of family. Or forever.
Later that day, he met a loud redhead who spoke a funny language (that was me). After a flurry of paperwork and rushed goodbyes, the lady from his orphanage left, taking the last shreds of familiar with her. Forever.
I don't know who was more scared: this vulnerable, frail little boy or me. His skin was chalk white and he was so, so tiny. I could see each rib.
I'd been looking at this little boy's pictures for eight months – almost the length of a pregnancy – dreaming of the day I'd become his mommy. I'd convinced myself I already loved him. We later discovered he'd been bundled up, maybe padded in those pictures. He was underweight and malnourished with medical issues we hadn't been informed of – serious, scary issues. We were unprepared.
In an instant, I learned a picture didn't tell the whole story.
In an instant, I realized that I didn't love this child.
I didn't feel anything close to love. I felt panic and dislike and then guilt for feeling panic and dislike. This kid was sick and smelly. But he was now my kid. Forever.
I vividly remember sitting on the bathroom floor of our hotel in China, thinking, "I can't do this … I can't be his mom." I close my eyes and I can see myself sitting on the cold tile floor, resting my cheek against the bathtub as I sobbed behind a locked door. No one knew how afraid I was.
I thought of leaving him in China even though I knew I couldn't. Or wouldn't. We took him home. Were my actions motivated by maternal feelings, pity or the desire to save face? I don't know. I don't go too far below the surface on that question, because that level of self-examination is just too uncomfortable.
We eventually found our new normal. We launched into a groove of constant doctor's appointments: specialists, nutritionists, early intervention. This kid's world had been rocked, but he was adjusting pretty well. He began to trust us, learning to speak English at lightning speed. And he ate. This tiny slip of a boy could really pack it away.
I was still having moments of panic and doubt, but I was encouraged by his progress. If he was adjusting, I had trust I'd get there, too.
Loving this child was a choice. The phrase "fake it till you make it" goes against my nature, but that's exactly what I did.
Social workers teach adoptive parents about bonding, but the focus isn't on helping parents feel bonded to the child. It's hard to be a parent who doesn't attach to their child. It's crushing. I know. I was that parent.
I look back on the road we've traveled and marvel at how far we've come. Today, my son is a secure and healthy child who is full of life. He's also full of it, and we all know what I mean when I say "it." He's gained weight and lost that hollow look. He knows there will always be enough food to eat, and he knows what a family is.
When he'd been with us for seven months, I walked past the den where he was watching TV. "Sit here, mommy," he called to me and patted the couch. I sighed. I was busy. I didn't have time to stop what I was doing to watch a bunch of aging Aussie hipsters dance around singing about cold spaghetti, mashed potatoes and fruit salad.
I sat anyway, and it felt good to relax for a second, even though the Wiggles aren't really my thing. I was always tired those days. The endless doctor's appointments and the stress over my own feelings had worn me down.
He hopped onto my lap, tugged at my hands and wrapped my arms around his body. "Mommy, we best friends," he declared. I pulled him just a little bit tighter. I rested my cheek on his head, inhaling the sweet smell of sweaty little boy head, and smiled … because I knew I'd made that gesture of affection spontaneously. I wasn't faking it. I thought to myself, "we are there."
This has been a hard road. Our life isn't a fairy tale or a scene from a Lifetime movie, but I cherish my bond with this child all the more because I was so afraid we'd never get here.
My husband and I chose adoption, and although I say I chose to love this child, I really believe that love chose me.
This article was originally published on