Off To College: Moving Out And Moving On
by Lisa Heffernan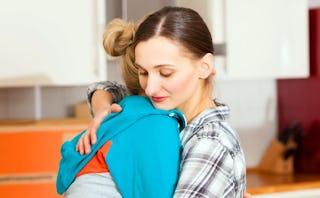 This is part of a three-part series, "Off to College," on preparing your teens before they leave home. In June, we looked at important talks to have with your incoming freshman and explored what makes students thrive in their first year of college. In July, we covered dorm shopping and provided helpful tips for saving money.
August is about moving in and moving on. It is about the mundane practicalities of getting our kids to their new school and the all-important adjustment to our new lives. It is a month of contradictions, with pain and pride blended in equal measure.
When our children arrived almost two decades ago it upended our lives. This is a transition of almost equal magnitude, so be gentle with yourself; it will take more than days or weeks to adjust. The first transition hit me like a ton of bricks. Was it any wonder that this one would as well?
In August, the ticking becomes louder. First it was months, then weeks, then days. There was one thing I told myself as the time until my son left drew close: You can hurt now and you can hurt later, or you can just hurt later. Katie Couric interviewed me and asked how I was dealing with the thought of my son leaving for college, and I responded honestly: denial. I dealt this way because it did me no good, and him a great deal of harm, if I worried, sulked and fretted about the fact that in some ways our family would never be the same again. It was going to sting like hell when I walked away from his dorm, so I tried not to think about it until that day came.
Here are three steps to help you prepare for move-in day and the separation that follows:
1. Plan Move-In Day
Look at the move-in schedule on your freshman's university website to see if there is formal programming for parents or students. If you can attend this family orientation (in some schools it is a day and in others only an hour or two) you will feel welcome and a bit more connected to where your kids are going. While you are on the website, check the dates of parents' weekend. Unless your child goes to school in the middle of New York or Chicago, where hotels are plentiful, you might want to book hotels and meals for move-in and parents' weekend, now, like, today.
Some families like to arrive on their student's campus a day or two early to learn a bit about their child's new surroundings. Others show up the night before or the morning of the move-in. Some plan for additional time for some last-minute shopping for food, drinks, toiletries or anything that might have been forgotten. There really is no best way to do this. I went for the quick but still painful approach: Get in, get my kid unpacked, and get out. Lingering for me felt like trespassing on their new lives and delaying the start of mine.
On move-in day, you might consider wandering over to the health center and having your child sign a release for medical professionals to speak with you. The only time you will need this is if your child is very ill or injured, and at that point, you will be grateful that you took the time to get this done.
2. Plan Your Goodbye
You will never feel more superfluous in your child's life as the moment you finish making their dorm room bed. You have heard the university president or dean speak, sat through orientation, and shaken hands with the parents of your child's roommate. The clothes are in the drawers and hung in the closet. The suitcases are empty and any boxes thrown out. And all there is for you to do is leave.
Most schools schedule a moment when they ask families to say goodbye. This really is a deadline, and if you ignore it, you risk becoming That Parent. You will want to leave, and your child will already have turned his attention to his classmates and their orientation activities. Some parents want to plan to have dinner that night or breakfast the following morning with their freshman. The final moments of leaving kids at college is like ripping off a Band-Aid. Do it quickly and don't look back.
Colleges know us—if they don't ask us to leave, they risk having us hanging around for hours, or days. While many parents admit to crying all the way home, it's best, if possible, to hold it together while still on campus. Our kids have such heightened emotions as they start this next stage of their lives, worrying about us doesn't need to be added to the mix.
The wisest words I have ever read about leaving your freshman on move-in day come from Marshall P. Duke, professor of psychology at Emory University. He speaks from over 40 years of experience of watching families bring their kids to college, and he asks parents to give the day its due.
"It is a moment that comes along once in a lifetime. Each child only starts college once […] Such moments are rare. They have power. They give us as parents one-time opportunities to say things to our children that will stick with them not only because of what is said, but because of when it is said," Duke says. "Here is what I tell the parents: Think of what you want to tell your children when you finally take leave of them and they go off to their dorm and the beginning of their new chapter in life and you set out for the slightly emptier house that you will now live in. What thoughts, feelings and advice do you want to stick? 'Always make your bed!'? 'Don't wear your hair that way!'? Surely not. This is a moment to tell them the big things. Things you feel about them as children, as people. Wise things. Things that have guided you in your life. Ways that you hope they will live. Ways that you hope they will be. Big things. Life-level things."
So plan move-in day, say goodbye at the university's designated time, leave a letter with the words you want to carry your child through the next few months and years, and then walk away.
3. Plan How to Keep in Touch
If you want to know what is happening on your child's campus, consider reading the school's daily newspaper online or subscribing to any emails the university sends to parents. Bookmark the parent page on the school's website to find important dates like parents' weekend, exams and fall break or winter vacation. There are parents associations and parents funds that can give you a legitimate, non-stalking, view into campus life.
While the conventional wisdom says to let kids be and let them decide when to have contact with you, it may not be a bad idea to check in more regularly at first. Many freshmen feel homesick or lonely, and in exchanging quick texts or short phone calls, parents can remind them that they are far from alone and that the feeling will probably be short-lived.
You will both be finding your way in communicating with each other and may not get it right at first. Mental health problems on college campuses are rising, so parents should stay in close enough contact that they will note a change in their teen that requires help. Remember when they went to the park and played on the playground and you sat on a bench off to the side. When they needed you or just wanted to make sure you were there, they would run over to find you, but most of the time they played happily. They learned how to be on their own, and we learned how to let them go. College is not so different, only this time they are letting go of that childhood, and so are we.
This article was originally published on