Olivia The Pig Showed Me How To Raise A Passionate Kid
Thank you, Ian Falconer, for the road map I so desperately needed.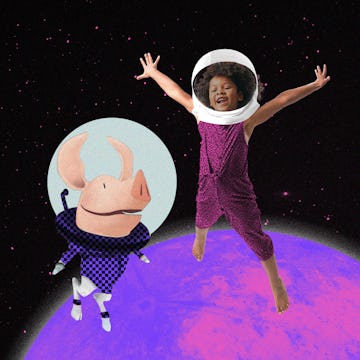 When my daughter was born, the third child after two older brothers, everyone said, "Aren't you happy you've had a daughter? Now you can do all the girly things with her." Clearly, they were picturing prim and proper teas at The Plaza and elegant Sunday afternoons at the ballet. They had no idea what she would be like.
My daughter is now 15 years old, and she's an unstoppable force, a human hurricane of energy, positivity, and creativity. She charges through the world with a huge smile on her face, knocking people over on the sports field, spewing ideas with her loud scratchy voice, and wrestling lovingly with our dog. She is most certainly not prim and proper and her elegance is unique — kind of the way a bolt of lightning can be elegant.
From a very young age, it was clear to me that my daughter was one-of-a-kind, breaking the mold that others imagined when picturing a little girl. And I knew in my soul that it was my job to protect and foster her vibrant spirit, making sure the world didn't dim her bright light. But there is no guide for keeping girls fierce as hell — I was on a long journey without a map.
Enter Olivia, Ian Falconer's magical book about a little girl piglet who embodied all of the things my daughter did. Falconer created a brilliant, exhausting, creative, powerful, funny, determined, strong-minded girl. Without even knowing her, he wrote a book about my child. Not only that, but with very few words and lots of fabulous black, white, and red illustrations, he also gave me the guide I needed to raise a spirited, lively daughter.
Each vignette in Olivia speaks to the complexities of caring for a passionate kid who barrels through life. Olivia is not perfect, but her imperfections are also her strengths. Falconer artfully encourages both the kids and adults reading his book to appreciate both sides of this coin, the duality of boundless energy for dancing when it's naptime, making a huge mess when imitating Jackson Pollock, negotiating for more books at bedtime to quench endless curiosity.
With each turn of the thick board book pages, Falconer reminded me that there are wonderful flip sides to the frustrating qualities in our kids. His work encouraged me to see where my own short fuse was selling my daughter short and possibly even dimming her light. He was not preachy but simply nodded toward my kid and said: look how amazing she is even when she's exhausting you.
Which is not to say that Falconer doesn't allow a parent's irritation to slip into the narrative — recognizing the inordinate amounts of patience required to manage the negotiations, address the defiance, and handle the mess that is wrapped up in caring for kids with big personalities. He offers permission for annoyance and appreciation to fill his joyous pages, recognizing what's required to set limits for a limitless child.
Recently, when I read of Falconer's passing, I felt sad in a way that surprised me — I didn't know anything about him until I read his obituary. Before creating Olivia, he designed opera sets with David Hockney and illustrated New Yorker covers, clearly the origin for Falconer's portrayal of the artistic process found in the pages of his children's books.
I went up to the attic to find our copy of Olivia in a bin of books that should probably be labeled "nostalgia." The heavy pages were marked with chocolatey fingerprints and bent corners, transporting me back to the many, many times I read the book to my daughter. Visceral memories flooded back: her warm body snuggled up to mine during quiet afternoons, and her signature cackle at Olivia's wild antics still rang in my ears.
Perhaps what I love most about Olivia is that she's a big dreamer. A HUGE dreamer. One day she's a famous ballerina; the next day, an opera singer, another an abstract artist. The boundaries that the larger world puts on little girls' dreams are entirely absent in Olivia. There are no bounds to Olivia's imagination or her potential. Life could be as vast as her mind allowed. So when my daughter tells me, I think I'll be president or a novelist or a cartoonist. I smile and tell her to keep at it.
In memory of Ian Falconer, I recommit myself to the essence of what he and Olivia taught me a decade ago: let my daughter dream as big as she wants, give her as much love as I possibly can, and get the hell out of her way.
Vanessa Kroll Bennett is the co-host of The Puberty Podcast; President of Media at Order of Magnitude; and co-author of the forthcoming This Is So Awkward. You can subscribe to her Uncertain Parenting Newsletter, musings on raising adolescents, and follow her on Instagram @vanessakrollbennett.