From The Confessional: Panic Attacks Are Real And They Impact Every Part Of My Life
by Karen Johnson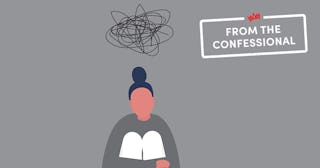 nadia_bormotova/Getty
Panic attacks are real. They are far more than "Oh shit I lost my keys for five minutes and panicked!" Panic attacks can take over your entire body. They can mean you can't breathe, you can't stand, you can't drive. They can prevent you from working. From parenting. From sleeping. From eating. And they are very often entirely outside your control.
Whether it's due to an anxiety disorder or childhood trauma or a myriad of other reasons, whatever causes your attacks–that's real. Don't feel like you need to downplay them, and definitely seek help to manage them.
If you suffer from regular panic attacks, you're not broken, and you're not alone. Here are some confessions from Scary Mommy readers who know all too well exactly what a real panic attack feels like.
I'm going through menopause & it is apparently giving me regular (like 3x/week) panic attacks with horrible physical symptoms mimicking heart attack or stroke. Went to the ER and nothing was wrong - $3000 bill I can't pay. I'm terrified all the time now.
Confessional #25849463
My anxiety and depression often manifest as anger. Sadness and panic are slowly becoming acceptable emotions to some, but no one accepts anger.
Confessional #25853182
Objectively, I know I will get another job, we'll be fine, and I'll feel better. For now, though, in my heart I feel nothing but panic, darkness, and doom. Please be supportive of people who are feeling anxiety and depression. We hate being like this too.
Confessional #25853519
Writing this from the pits of the worst depression/anxiety attack I've had in over a decade. I know it's mental illness lying to me, and this will pass, but all I can FEEL right now is doom, hopelessness, panic, being trapped, and grasping for ANY escape
Confessional #25852567
Quite often mental health struggles can lead to panic attacks, and they can make you feel like you don't have control over your own body and mind.
I am so sick of waking up feeling panicked for no discernable reason.
Confessional #25853868
The Sunday anxiety is turning in to Sunday panic attacks. I wish I had someone to talk to.
Confessional #25833742
I'm about to reisgn from a job I love and am well paid for because of my next level panic attacks.
Confessional #25830967
introvert mum here, just booked a party for my twins. Got a panic attack and cancelled it an hour later. I'm so sorry babies, mummy will make it up to you
Confessional #25841461
They impact all aspects of your life—from your ability to have a birthday party for your kid, to maintaining your career so you can pay the bills, to how you manage life on a regular Sunday night.
School administrator, about to get ready for the first day of school…with all the mask fighting, crazy kids, and even crazier parents sometimes, I'm really questioning if I can keep going. Woke up at 4:30 to a panic attack. :'(
Confessional #25846928
I don't know how much longer I can do this. I'm having more frequent panic attacks, DC are anxious & depressed, covid cases rising, no info from schools, H & I are trying to fix our relationship, money running low. It's all too much.
Confessional #25844103
All I wanted was to take DS5 to the pumpkin patch safely, but CV19 numbers are so high here I couldn't do it without panicking the first time he needs a bathroom. Next year, I'm taking him and spoiling him rotten for the day.
Confessional #25853382
And then a pandemic hit. So those of us prone to panic attacks are now living in a world where people are dying by the thousands, we aren't sure if we can send our kids to school, and grown-ass adults are throwing tantrums over having to wear a mask in Costco. So yeah, over the past couple years, the panic attacks are in fulllllll swing.
It has almost been a year since my dad passed. I still get nervous about missing a call when I don't have my phone on me. I've been outside for an hour without it and panicked when I realized and thought "what if something bad happened? I have ptsd"
Confessional #25839123
If H doesn't stop screaming at me, I might punch him in the nose, one day. PTSD caused by being raped when I was 8. H knows this. Hs screaming triggered severe panic attacks, for years. Stop fucking screaming at me, fucker. Just like MIL. Always screaming
Confessional #25837958
People think I'm picky or snotty about cleanliness, but that's not it. I grew up in a filthy, hoarded house. Clutter and mess make me panicky.
Confessional #25852300
I'm 50 years old & still get panic attacks when I remember my childhood. Abuse & neglect has far reaching, long lasting effects. I hate my parents for making me this way. They didn't even TRY to be decent.
Confessional #25834464
Many people can attribute their panic attacks to a major life-altering trauma that has caused them to suffer from PTSD. If this is you, remember that this isn't your fault, and it's important to seek professional help in order to cope.
i get panicky when i think about the fact that if i won the lotto and suddenly had lots of $ dh and i may not be married anymore. it's been mostly good, but i am just irritated w/him as he spouts politics. he did this before bed.now i can't sleep. shit.
Confessional #25852790
OMG. I literally just panicked... I was thinking about how it will be when my kids are grown, and... I'm going to be so fucking bored with it just me & my H. FUCK. Now I don't know what to do with that thought. Freaking out inside.
Confessional #25850464
Office mate is angry, yelling, swearing and throwing things for 8 f-ing hours. Everyone thinks it's hilarious. Obv do not live in a home w a partner w rage issues. I want to scream and cry and its giving me a panic attack. Going to throw up.
Confessional #25842213
You also might have panic attacks because you feel unsafe or insecure in your relationship. Fears of the future or fears of even going home at the end of the day can be panic-inducing.
Panic attacks are all-encompassing and can leave a person exhausted beyond measure. They take over your mind, they make your heart race, your hands shake, the room spin. They can cause nausea, headache, body aches, and you might need a nap afterwards.
But suffering from panic attacks does not mean you are weak. In fact, enduring and coping with this symptom of trauma or mental health issues actually means you're strong AF, so don't forget that.