This 'Harry Potter' Nursery Will Make You Believe In Magic
by Ashley Austrew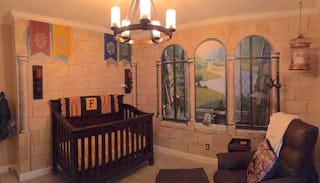 Image via Kaycee Daniel
Photos of this incredible "Harry Potter" nursery are going viral
If you're expecting a baby and want to instill a little bit of magic into your nursery decor, then you'll definitely want to take a page out of this family's spell book. A pair of Illinois parents have become internet sensations for creating the Harry Potter-themed nursery of our dreams.
RELATED: Easy Wall Art Ideas For An Instagram-Worthy Nursery
New mom Kaycee says her husband started talking about his idea to create a Harry Potter nursery as soon as she got pregnant with their son. "It was all my husband's idea at first," she told Scary Mommy. "And all I could think about was it being really cheesy and I didn't like the thought of that, but then he started a Pinterest board and I really started to warm up to the idea."
With the help of their friend, 3-D artist Nate Baranowski, the pair built the ultimate Hogwarts-inspired baby room, complete with a stunning mural and original art featuring iconic scenes and characters from the Harry Potter series. They even have a humidifier that looks like an owl.
"The more little accessories we found the more excited I got," Kaycee said. "Then we had our friend Nate Baranowski come and paint a mural and he really took it to the next level! I found myself sitting at my house today admiring some of the pictures and I realized I can go see this in person because it is actually in my house."
Kaycee tells Scary Mommy the room took about three months to plan, but it only took Baranowski five days to complete his incredible mural. The mom shared some photos of the room in a Harry Potter fan group, Room of Requirement, and they've since gone insanely viral. "It is crazy how many people have liked it," she said. "It is all over the world. The Internet is sure a crazy thing!"
Creating a nursery is one of the most fun and exciting parts of preparing for a new baby, and these parents totally knocked their Harry Potter theme out of the park. If I were them, I'd have a hard time not kicking my kid out of the room and living in it myself. Or, heck, maybe we'd just extend the theme to our entire house and live in a faux-Hogwarts, because that's how much I love this space.
There's no doubt Kaycee's seven-month-old son will grow up loving the Harry Potter series as much as his dad does, and with a gorgeous, magical nursery like this one, who could blame him?
This article was originally published on