Parents Are Ditching Their Kids In Coach & Heading To First Class
Parents are getting shamed for leaving their kids for the finer things in life.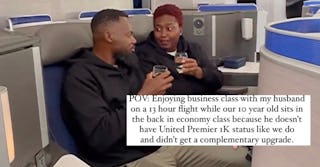 Instagram / @themomtrotter
Traveling on planes with kids can be one giant headache. They want the window seat. They have to go to the bathroom every five minutes. They need a snack. They want off the plane, and they are going to let the entire plane know how they feel about it. Now, imagine that you could just drop your kid off in coach and head on up to first class, sip some champagne, stretch your legs out, and enjoy the flight.
For some parents, this is a reality.
A mom and travel influencer caught some heat after she posted that she and her husband were enjoying a first-class experience during a recent flight while her ten-year-old was back in the economy section. While surely in jest, the internet did not take kindly to her confession.
Kay Akpan (@themomtrotter) posts photos and videos from her travels with her husband, Sylvester, and her son, Aiden. The self-proclaimed "digital nomads" enjoy international travel and travel full-time.
The family went viral after sharing a video that showed Akpan and her husband enjoying a beverage in first class... while their son was sitting in economy.
"POV: Enjoying business class with my husband on a 13-hour flight while our 10-year-old sits in the back in economy class because he doesn't have United Premier 1K status like we do and didn't get a complementary upgrade," the text-overlay on her post read.
She added, "Sorry son" along with three cry-laughing emojis.
Akpan opened up the conversation to her followers, asking them to choose between three different scenarios if they were in her shoes, writing in her caption that followers should explain whether the age of their child or the duration of the flight would affect their choice.
"Let's talk fam !!- What would you do? Option 1, 2 or 3? ... #1. Take the business class upgrade and leave your child in economy2. Give your child the business class upgrade and sit in economy 3. Decline the upgrade so that you can all sit in economy together," she wrote.
Most commenters opted for their own answer, which would be to have at least one parent stay with their child in economy class. A handful of people favored leaving the child alone, saying that kids won't appreciate the perks of business class and that they didn't see there was anything abnormal about letting a child sit by themselves.
Some commenters criticized Akpan saying that it was "irresponsible" to leave a child on their own on a flight, as it made them vulnerable.
After the clip went viral, Akpan revealed in a follow-up post that the original viral clip was all in jest. She did not actually leave her son in economy class and that he was actually sitting in a separate row in business class.
The influencer wrote that she did upgrade to business class using points, but that it was for the whole family.
She also addressed the mom-shaming comments her post received, writing, "On my last post I agreed with every response bc whatever option you chose to go with is fine as long as it works for your family. There's no right or wrong answer, please let's stop with the mom shaming."
Akpan is not the only parent to garner some side-eye from their unorthodox travel plans with kids. Successful property investor and dad Samuel Leeds went viral after posting a video of his kids in economy while he and his wife enjoyed first class luxury.
In the TikTok video, Leeds gives his two children a wave goodbye, leaving them in in economy class while heading to his seat in first class, where his wife is shown in a lie-flat seat with an elaborate in-flight dinner.
"Rich people, don't spoil your kids," wrote in text overlay on the video.
Leeds added that he walked "past business class, because I earned it."
Unsurprisingly, this dad's harsher more matter-of-fact video drew much criticism though he clarified in the caption that the children were being tended to by their nanny.
"Umm you left your kids behind mate," one user wrote, adding that "nanny or no nanny my kids are coming with me."
One user accused Leeds of flexing by using his kids, calling the video a "very odd post."
Some users, however, came to his defense.
"As a Nanny, I see no problem. It's not like you left your wife sitting with the kids and your Nanny," one user pointed out.
"I am baffled by the people who have a problem with this. They have a nanny and are on a plane. The kids are getting to go on vacation as well," another echoed.
Sure, some parents will cringe at the idea of leaving their kids to their own devices during a flight while others may be a bit green with envy at the thought, but like most things, one size doesn't fit all when it comes to parenting.