A Photographer Doesn't Make Girls Smile And The Results Are Stunning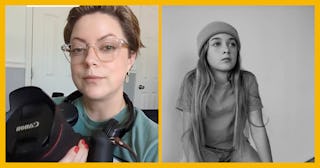 TikTok / @bdlighted
Every woman has a story of a time when they were minding their own business (studying at the library, waiting in line for a coffee, simply existing) when a man has approached them with the long-hated and offensive phrase, "You should smile more!"
Brooke Light, a photographer from Charlotte, North Carolina, made a huge statement to try and smash that patriarchal ideology by sharing one of her main rules while photographing girls in a now-viral TikTok: If they don't want to smile, they don't have to.
"Never underestimate the power of a photoshoot for your kids confidence," Light (@bdlighted) wrote in the TikTok caption.
In the video text, the photographer elaborates further that her photoshoots, "allow girls to show up, take up space and not smile if they don't want to."
She then shares several black and white photographs from a few of her shoots where not one young girl is cracking even the smallest of grins — and the photos are amazing.
Instead of capturing picture perfect, prim and proper little girls, Light takes these girls and that they are confident, strong, and poised people.
The video soon went viral, gaining almost 1 million views, with people applauding Light's unique style along with her "f*ck the patriarchy" lens.
One person called the photos "powerful and authentic."
"I love how they are not trying to be anything 'extra,'" one person noted. "Just their own raw and savage selves."
"They are even more amazing in person! like that vibe you feel is ALL THEM. I'm just there capturing it. 🖤," the OP wrote back.
Several users pointed out that these photos touched them emotionally, triggering some inner child wounds that may not be healed yet.
Another wrote, "I'm tearing up because asking a girl smile has too many connotations with it. These pics are beautiful."
Light replied, "yeah there's a lot to unpack on the subject for sure. I just love creating a space where they can smile or not. either way I'm gonna be there 📸📸📸"
"The fact that this made my eyes tear up tells me I still have some healing to do 😳," another wrote.
Women have been fed the B.S. notion that girls (from pretty much birth) should sit pretty, smile, and nod accordingly. This out of touch and totally sexist idea has been perpetuated mostly by men and older generations who haven't done a damn thing to work out that internalized misogyny.
One study found that, of the women surveyed, a whopping 98% of women have been told to smile at least once in their life, and 15% said it continues to be a weekly experience. Several reported the comments happening most often at work but also occurs frequently in public and sometimes even at home.
Light posted a follow-up video, addressing the positive feedback she's been getting while also revealing that she doesn't make boys smile either, as part of her philosophy of "no forced smiles, fancy clothes, or kiddie poses."
The pictures are also amazing!
"These mom's got me blushing in my DMs," the photographer captioned the post. "I've never had my creativity or my photography validated so much in my life. thank you for the outpouring of love on these photos this week. it's meant more than you can ever know."
Here's to Brooke Light, and here's to taking some snaps of your kids this weekend without begging them to smile first.
You can see a ton of Light's photos and book her here.