Better Start Planning For Your Kid's Pre-K Prom Now
by Maria Guido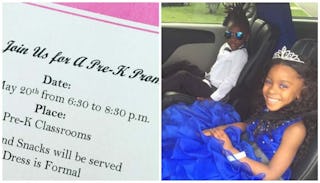 Pre-K proms are becoming more common
It used to be prom night was something you looked forward to your entire childhood — but why wait when we can indulge our children in everything right now? Even things they probably don't care about at all.
Pre-k proms are gaining in popularity. To those of you who can barely find a matching pair of PJ's for the dreaded preschool theme days, get your shit together! Next year you may need to find tuxes and prom gowns.
Pre-k prom has a hashtag? These kids are adorable so at least there's one good thing about this phenomenon. But may we be the first to say please stop. Four-year-olds don't need tuxedos, prom gowns, and limos. I mean come on.
I don't even have formal wear. My four-year-old definitely doesn't.
"The events often come complete with a DJ and photographer. Schools and parents post pictures and videos of the events online," reports CBS News. One mother told CBS, "I did not go to prom, no. I had an overprotective mom," she said, "No dances, no prom." She regrets it. If you look at Instagram, lots of moms are having a little prom do-over with the pre-k kids.
My prom sucked. I still don't want do-over at my kid's pre-k.
This is stretch limo just in case you've never been in one. I didn't get into one until I was 18.
Ok, this is why it's a thing. Because these kids are so freaking adorable. Look at them in front of their limo.
We want to be as cool as these two when we grow up.
The pre-k prom phenomenon doesn't just live on Instagram. There are plenty of schools sharing photos on their Facebook pages:
Blue tuxedos? Baby pink Dr. Marten's? We may be having a change of heart.
BRB, gotta go reserve a limo.
This article was originally published on