The Best Sunscreen Safe For Pregnant People, According To Experts
We only recommend products we love and that we think you will, too. We may receive a portion of sales from products purchased from this article, which was written by our Commerce team.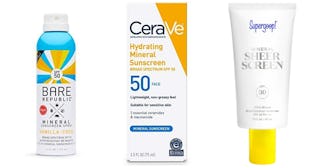 Amazon/Sephora
Is pregnancy-safe sunscreen on your shopping list these days? You likely already know that being pregnant means you shouldn't use some of your old tried and true (now not super pregnancy-friendly) skincare products (like anything with retinoids). It even means you have to be more careful about the shampoo you use while pregnant. But did you know that you might also have to swap out your favorite sunscreen for a pregnancy-safe sunscreen? While this is ultimately a personal choice, there are certain ingredients commonly found in popular sunscreens that could potentially be harmful to pregnant women and their unborn fetuses. If you're interested in making the switch, mineral-based sunscreens are your best bet, since they sit on top of the skin, rather than absorbing into the skin like a chemical sunscreen.
Which sunscreen ingredients should pregnant women avoid?
The ingredient you want to avoid the most is oxybenzone. Practicing clinical and aesthetic dermatologist Dr. Harshal Ranglani, MD, tells Scary Mommy, "Oxybenzone has shown to be an endocrine disrupting chemical (EDC). It is also called benzophenone-3 or BP3. In various studies done on pregnant mice, it was shown to affect the growth and development of the breast tissue. Oxybenzone has been shown to get absorbed into the bloodstream and transferred to the fetus via the placenta, potentially causing harmful effects on fetal growth and development." Many dermatologists also recommend against the use of octinoxate, which may also affect the endocrine system.
Cosmetic Dermatology expert Dr. Kenneth Mark told Scary Mommy that pregnant women should avoid PABA (para aminobenzoic acid, phthalate, and avobenzone, saying, "these chemicals have been suggested to affect the endocrine system and could be potentially harmful."
What should you look for in a pregnancy-safe sunscreen?
Always look for a mineral sunscreen rather than a chemical sunscreen. Dr. Ranglani recommends titanium dioxide and zinc oxide as the safest ingredients for pregnant women. He explains, "These are inert and they sit on the skin. They have the added advantage of broad-spectrum protection against UVA, UVB as well as visible light."
Still feeling confused? We spoke to several dermatologists to get a list of the best mineral options for pregnancy-safe sunscreens. Here's a look at their favorites.
Best Pregnancy Safe Sunscreens
Best Pregnancy Safe Sunscreens for Body
This article was originally published on