New Law Requires 'Reasonable Accommodations' For Working Pregnant & Postpartum People
The Pregnant Workers Fairness Act takes effect on Tuesday.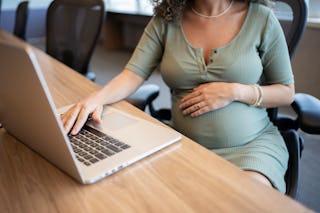 Renata Angerami/E+/Getty Images
A new law goes into effect on Tuesday requiring some employers to extend some flexibility and understanding for their pregnant and postpartum workers.
The Pregnant Workers Fairness Act (PWFA) could legally entitle pregnant and postpartum people to longer breaks, have shorter working hours and take time off for medical appointments as well as recovery from childbirth.
The new law mandates that employers with at least 15 employees provide "reasonable accommodations" to workers who need them due to pregnancy, childbirth or related medical conditions, according to the Equal Employment Opportunity Commission.
According to a report published last fall by the advocacy organization National Partnership for Women and Families, the new policy change could benefit an estimated 2.8 million workers annually.
While the EEOC has yet to publish details as far as the types of accommodations required under the PWFA, some examples include more flexible hours, the option to sit for jobs that require long periods of standing, closer parking spots, access to uniforms and safety apparel that fit a pregnant person's changing body, and exemptions from heavy lifting or working around chemicals that could be dangerous during pregnancy, according to the EEOC.
By the end of 2023, the commission will be required to publish guidance on how employers should implement the law, including a list of examples of reasonable accommodations, which the public will have a chance to weigh in on.
"The PWFA is the culmination of a 10 year-long campaign to close gaps in civil rights laws so pregnant workers are not pushed out of jobs or forced to risk their health when they require reasonable accommodations on the job, like a water bottle to stay hydrated or a transfer away from strenuous heavy lifting," Elizabeth Gedmark of A Better Balance, an advocacy group for pregnant workers, told CBS MoneyWatch.
The new law will fill the "legal gap" between the Americans with Disabilities Act (ADA), which prohibits employers from discriminating against employees with disabilities and also requires that they make accommodations for them, and the Pregnancy Discrimination Act (PDA), which bans employers from discriminating on the basis of pregnancy in hiring and firing.
With the Pregnant Workers Fairness Act, employers are required to consider giving pregnant workers a range of accommodations different from those of their peers.
"Employees don't have to use any magic language. Employers need to recognize the requests that come in and be prepared to deal with those requests," Christine Bestor Townsend, an employment attorney with Ogletree Deakins, told CBS MoneyWatch.
Pregnant workers have long asked for pregnancy-related accommodations, and some states already have laws in place that mirror the act.
"The PWFA just gives another vehicle for employees to have additional rights in the workplace," Bestor Townsend continued.
This is great news considering most OB/GYNs tell pregnant women to avoid or limit certain tasks like heavy lifting, long shifts, standing for too long, or being exposed to certain chemicals due to the risk of miscarriage, premature birth, or low birth weight, according to the CDC.
The law also comes on the heels of recent research showing that 41% of mothers identify as the sole or primary breadwinner in their household. This means that millions of women, some literally working to support their entire family, will have the opportunity to continue to work, put food on the table and a keep roof over their kids' heads without having to worry about unsafe work conditions or burnout.
It's about damn time!