A Parenting Coach Shares Her Single Best Tip For The First Week Of School
Sometimes the best thing to do is nothing at all.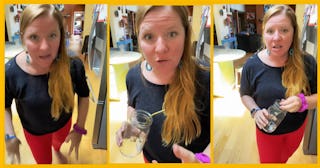 Dr. Chelsey Hauge-Zavaleta/TikTok
Sometimes less is more. Many parents feel pressure to fill their kids' schedules up in order to give them the most enriching and exciting experiences, but having too much going on can actually harm your children. One parenting coach and doctor of education is stressing this lesson during the back to school season, and it couldn't be simpler: during the first weeks of school, make sure your kids have tons of time to rest.
Dr. Chelsey Hauge-Zavaleta (@drchelsey_parentinga on TikTok) is a parenting coach with a doctorate in education, and she's also a mom. She specializes in helping parents, teachers, and kids cooperate and learn through educational neuroscience. She also has great advice on how to smoothly start a new school year.
"If this is your child's first or second week of school, you need to go easy, easy, easy, easy," she begins.
What does she mean by that exactly? Clear the calendar.
"Do not plan a bunch of playdates, do not go out to dinner, do not do more than one activity," she explains. "Have at least two or three days where there is nothing after school, you go home and have a super easy day."
Why it is so important? Because kids are going through way more during this transition than you might think.
"Kids are tired," she says. "Going to a new school, going to a new classroom, to a new teacher, it takes a lot of cognitive social and emotional work. Your task as a parent is to reduce other demands. Reduce the demands. Reduce the load. Make it easy to cooperate. Set your child up for success by going to bed early, have a good nourishing dinner, and being easy in the afternoon. Have a movie night, stay home and look for lizards, read a bunch of a books, go to the library and go home and read."
Thank goodness, for once, it's a very, very easy piece of advice to take. And after a full summer, it feels like all members of the family could use a week or two of consistent rest, easy schedules, and time at home.
"Make it easy. Very few demands this week and next week," she concludes.
Down in the comments, parents couldn't agree more with the advice, and some had tips and tricks on how to make it happen.
"I literally write 'do nothing' on the calendar for the weekend after school starts," one mom and teacher shared.
"I'm picking up snacks and planning on heading to the lake or woods for a bit to connect with nature," another said.
"We have pizza and movie nights or the equivalent for the first week! Comfort comfort comfort," another offered.
Other parents complained that it's impossible to do this with after school sports schedules that have gotten out of control.
"Cries in after school sports," one mom lamented.
"Crying as a football mom with 3 two hour practices and two games this week," another mom shared.
This isn't the only advice Hauge-Zavaleta has shared about back to school. In another video, she covers five ways you can help both your kid and you through tough school transitions — all by connecting with you while you're away from each other.
The tips include drawing a heart on their hand and your hand that both of you can glance at during the day, tucking a picture of the family inside their backpack, writing them a note for their lunch, or giving them a song or object to "hold on to."
It's really important to remember that back to school transitions can be tough times for everyone, including kids of all ages, parents, and family units. Having strategies in place and empty spots on the calendar to rest can help make it easier on everyone until you're all back in the groove.