10 Things To Do In Santa Monica With Kids
by Amy Wruble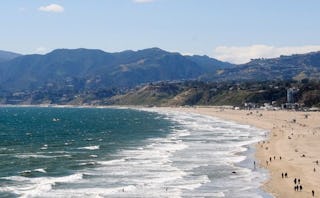 People who hate Los Angeles love Santa Monica, and here's why: No smog, walkable streets, perfect weather, beautiful beaches and you never have to get on the freeway. I've been soaking up the Santa Monica sun for 15 years, but only since having my daughter did I realize what a great place it is for family fun time. Here are our ten favorite spots; I hope you enjoy them as much as I have!
1. Santa Monica Pier – This 100-year-old Santa Monica icon is all about family fun–and eating too many churros. There are rides for all ages, from rollercoaster to classic carousel. You can go mano-a-kiddo playing retro carnival games (the kind where you win giant stuffed animals that need their own seat on the plane), Ms. Pacman, ski ball and (yes!) air hockey. There's even a cute little aquarium. Plus, check out the trapeze school, where kids as young as 6 can take a class in flying trapeze or trampoline. And don't miss the Pacific Wheel, the world's only solar powered Ferris wheel, where kids can scream as loud as loud as they want and only the ocean will hear.
2. Main Street Farmer's Market – Every Sunday morning, families gather to shop colorful produce, eat freshly made crepes or breakfast burritos and jam out to live music. Little ones will love the farm animal petting zoo (what's cuter than a baby goat?), balloon animals, face painting and pony rides—hand sanitizer provided.
3. Annenberg Beach House – All the beaches in Santa Monica are beautiful, but this spot just north of the PCH's California Incline is super kid friendly, with a shaded sandy play area, a warm-water splash pad and Back on the Beach, a no-shoes-required snack bar. During summer, you can pay extra to swim in the heated public pool (reservations recommended on weekends), which offers free floaties, lockers, showers and a game room.
4. Third Street Promenade – This outdoor shopping area is packed with stores, kiosks, restaurants and movie theaters, but kids are drawn to the diverse street performers, from singers and break-dancers to human statues and fire eaters. My toddler can spend an hour circling one of the giant spitting dinosaur fountains – you'll have to see them for yourself.
5. Santa Monica Place – Visiting during the holidays? This three-floor outdoor mall, adjacent to the Santa Monica Promenade, is your best bet for tracking down Santa Claus and The Easter Bunny for a photo op. There's also a top floor food court where parents can relax (sort of) over lunch with a clear view of "The Whale," a play structure for kids 8 and under. Try dinner at True Food Kitchen–its yummy organic kids menu will make you feel like you were a good mom today. Little ones still cranky? The Nordstrom's shoe department gives out balloons.
6. The Museum of Flying – Beat the crowds with this hidden gem at the Santa Monica Airport off S. Bundy Drive. They've got cool planes and a flight simulator, and kids 5 and under are free. Grab lunch at the family-friendly Spitfire Grill, then wander over to the runway, sit on the bleachers and watch planes take off and land up close.
7. Tongva Park – This gorgeous new 6-acre green space near the Santa Monica Pier has everything a kid wants in a park: sky-high climbing structures, slippery slides, a picnic area, a splash pad, a fountain with a foot bath for puddle jumping, and tons of running room. Parents will appreciate the stylish park benches (if only you could lie down!) and observation decks with views of the ocean.
8. Books and Cookies – Every once in a while, it does rain in Santa Monica, so you might want to head to this adorable children's bookstore, reading room and indoor play space located on Main St. just north of Ocean Park Blvd. Like the name promises, it also features a café with fresh-baked cookies (and healthy snacks). Call for information about drop-in classes, from arts & crafts to music.
9. Santa Monica Bike Path – One way to avoid our notorious traffic is to travel by bike. Visit any Perry's Cafe and Rentals location (there are four beachside hubs in Santa Monica) to rent bicycles or rollerblades for the whole family. Then, cruise an 8.5 mile bike path that runs along the ocean all the way down to Venice Beach, where your kids can hock you for a henna tattoo.
10. Sweet Rose Creamery – There's no shortage of iced treats in Santa Monica, but my favorite has to be Sweet Rose Creamery, home of my salted caramel addiction. The ingredients are organic, the flavors are exotic and ever-changing, and the line is around the block. My daughter's go-to is their bon-bons, which are chocolate-dipped ice cream lollipop heaven. It' s located at the Brentwood Country Mart on 26th St., where you'll also find quarter-operated horsey rides, an open air food court and a fabulous overpriced toy store. If you require dinner before your ice cream, I highly recommend Kay & Dave's Mexican cantina across the street.
Got any other must-see spots in Santa Monica with kids? Leave them in the comments!
This article was originally published on