For 'Saved By The Bell' Star Elizabeth Berkley Lauren, Mom Guilt 'Comes With the Territory'
by Donna Freydkin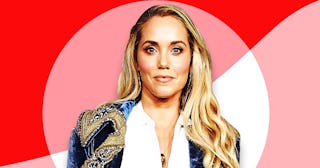 Scary Mommy and Steve Granitz/GGetty
For years after Saved By the Bell ended, Elizabeth Berkely Lauren made it clear to the world that she wasn't the goody-goody teenager Jessie Spano. From Showgirls to CSI to New Girl, she succeeded. But now, she's come full circle, playing Jessie Spano again on a new version of Saved By The Bell.
She's also a parent, just like you, struggling to teach her kids about how to be more grateful, especially in this age of instant gratification. How do you teach a child, being raised by wealthy and well-known parents, to appreciate the detritus of stuff they get and realize that it doesn't just magically show up courtesy of Amazon? Berkley Lauren doesn't claim to have all the answers, but she does have one solid suggestion. "When people get him a present or make something for him and give something to him, we make a fun, sweet little video to express that gratitude back," she says, of her son Sky, 8.
Berkley Lauren, married to painter and designer Greg Lauren (of that Lauren family) didn't grow up rich. But she did grow up famous, playing outspoken do-gooder Jessie Spano on that treacly '90s staple Saved by the Bell. The new version of Spano, os now smoothly self-assured as a guidance counselor at Bayside High, in Peacock's updated reboot of the series. She talks to Fatherly about Bayside, being a working mom, and why Saved by the Bell remains an eternal part of pop culture.
Let's talk about the reboot. You have an incredible showrunner in Tracey Wigfield, who worked on 30 Rock and the Mindy Project, and the show has already been renewed for a second season.
We knew we didn't want to do a direct reboot because it really wouldn't work. We wanted to take what people loved and create a show that could really reflect these times. So we deal with so many issues that the old show couldn't have. Now we deal with race and privilege, with kids from all different socioeconomic backgrounds, diversity in so many different ways.
We were protective of how we were going to do it. And then our showrunner, we got so lucky with Tracey Wigfield. She grew up with the show and loved it. Our intention was to do a re-imagining and her take on it, taking the love she already had for it, but then making it relevant to youth culture today. And with a different tone.
Why do you think the show has been around this long when most others are basically forgotten?
We did Saved by the Bell when we were 15. We were children. We were doing high school at the time. We had a tutor on set. Our parents were there because we were minors. This show has been such a huge part of my life for all these years. And for me, I'm from Michigan and we moved out to California and that was my first big professional job. So it holds something really special to me. And the fact that we never could have known that it would have this longevity and impact on pop culture and the way that it has — we could never have known it was this little show that could on Saturday mornings.
Do you tap into Jessie's child-raising expertise when it comes to your own kid?
Jessie Spano has her PhD and writes bestselling parenting books. I don't have that same level of expertise. All I can say, our kids are watching us all the time.
Your kid clearly has access to a lot of great stuff. How do you teach him to be appreciative?
So yes, I feel like we can teach gratitude, but it's more than teaching please and thank you as almost a robotic response to something. We've always done things to help others in whatever way makes sense again, for his age. My son might have more things than I did or certain access to things. And we let him know that these things are special, but if you are growing up as our kids are in the world with more access to more things, I think taking the time to express gratitude becomes a practice.
As a simple gratitude practice before we go to bed, we say what are we most grateful for from the day. I also think they're watching us all the time. So I'd like to think that he gets to mirror what he sees in how my husband and I move through the world. And I think that we are grateful people.
Jessie is a working mom and so are you. Is working mom guilt a reality for you, as it is for me and everyone else I know?
It comes with the territory, right? In our culture from a young age, we are taught to be good at so many things, we are taught that we must achieve. It's part of the culture. We then expect more of ourselves and it's so hard. We all have to work to earn a living. And I have to say what, the only thing that helps me reconcile with being away for whatever amount of hours a day— hopefully, the joy or the fulfillment we hopefully get from our work, to be able to bring that back home is something that I think is pretty powerful. Even if we don't see it right now, even if we don't see right now what it does to our child, for them to know that we're getting fulfilled — I think that it's good for them.
This goes hand in hand, doesn't it — work and mom guilt. And I do hope that we get to inspire kids by them seeing that when parents work, we're able to then provide this or provide that. I got to have Sky come to set. Being behind the scenes was really helpful because then he could visualize where mommy is. So it's not this mystery of like, 'Where did mommy or daddy go?' It's something that they can feel a part of.
The new Saved By the Bell is streaming on Peacock right here.