Stop Googling 'Gift Ideas' And Check Out These Unique Picks For Moms You Won't Find Anywhere Else
by Rachael Lubarsky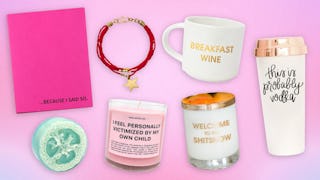 Feeling overwhelmed by the holidays? We can't solve all your holiday shopping headaches, but we've totally got your back when it comes to unique, thoughtful gifts for every mom in your life. That's what the Scary Mommy Shop is all about. Since we launched the shop in 2018, we've been on the hunt for new and amazing brands that are "Scary Mommy" approved. We love their stuff, but we also dig what they're about – most are women-owned small brands working to make the world a better place.
You're not going to find these products on Amazon, Mama. These gifts are all about #momlife – fun, not fussy; cool, not conservative; special, not standard. We know you'll love them because we do.
Find something perfect for every mom on your list and do some shopping you feel good about this year. Order by December 13th to get it in time for Christmas!
Public School Paper Co
Sisters Christina & Rochelle grew up making paper creations in the back rooms of their parents' office supply store. Today, they're still at it, offering a mix of sweet, sarcastic, and funny greeting cards for all occasions — hand-drawn and printed in the USA.
Ryan Porter
Entrepreneur Krysten Kauder created a brand that stands for empowerment, using expression-based products to start conversations on a range of important issues to women, from equality to mental health. With sassy messages and stylish design, Ryan Porter is a favorite of celebs, editors, and everyday moms.
Chez Gagné
Alex Gagné began studying letterpress printing as a creative outlet, before finding success and turning her side hustle into a full-time business. Today, Chez Gagné offers a unique combo of sassy and classy greeting cards, drinkware, candles & more that make great gifts — for others or for yourself!
Honey Belle
Iris Cherng's psoriasis — and her frustration at her lack of afforbale options — led to her taking matters into her own hands. With an emphasis on traditional herbs and remedies, Honey Belle is celebrated by beauty enthusiasts for using simple, natural, effective ingredients that help people discover self-love and self confidence in their own skin.
Sweet Water Decor
Melissa Horvath's motivational, inspirational brand started in her basement and has grown to be featured in shops & boutiques around the world. She still hand letters every design, so every product — mugs, candles, prints, stationery & more — is truly unique.
MAIK NYC
Entrepreneurs Meg Young and Ashley Kasperzak work with local African designers and artisans to create unique jewelry you'll be proud to wear. Each piece combines modern design with traditional technique, and helps its makers earn fair wages that go directly to their living expenses and education.