10 Ways School Sucks For Adults Just As Much As Kids
by Janel Mills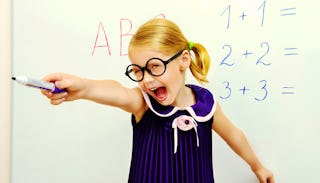 As I'm driving my daughter to kindergarten, she proclaims, "Mom! I hate going to school!"
It takes every ounce of self-control I have to resist saying, "You know what? ME TOO. Let's go to McDonald's, get ourselves a smoothie, and go back to bed."
Because seriously, this all-day, every-day school thing is a pretty raw deal for everyone involved…
1. Rise and shine. I have to get up early every single day. The only reason I graduated was so I could put an end to this early-morning business, and now I have to start all over again?
2. The language police. Every day, I find myself worrying if today is the day she drops the "f" bomb at recess.
3. Having to get dressed. I'm losing out on at least two all-day pajama days per week, which is seriously putting a cramp in my ability to not do laundry on a regular basis.
4. The fact that that they lose stuff. And I'm stuck digging through the school lost & found, also known as "The Lice Box."
5. The art projects. I can't be trusted to bathe my children every night, but the teacher thinks I'm going to make time to help glue cotton balls onto this worksheet or cut letters out of a magazine?
6. The endless crap. "Oh cool! You brought home yet another drawing that you're never going to let me throw away and expect me to keep and cherish forever!"
7. The late pass. The Walk of Shame to the school office when we're late to school is way less fun than the Walk of Shame I remember from college.
8. High school, part II. When was anyone going to tell me that the same snobs that ran student government in high school are the ones now running the PTA?
9. Money! I have dysfunctional family members who don't ask me for money as often as my daughter's school does for field trips, class projects, book fairs, popcorn day, etc.
10. Homework. I suspect that homework is just a way for my kid's teacher to figure out how much effort I'm actually putting into this whole parenting thing.
Related post: Going Back to School: The 1970s vs Today
This article was originally published on