Parents "Cry In American" After Hearing About Amazing South Korean Daycares
And you will flip out over what daycares cost for parents.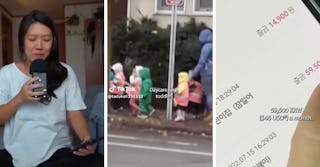 Daycare costs have grown so astronomically high in the U.S. that many families decide to have one parent stay home by default because the budgeting just does not make sense.
If daycare is so expensive that it's cheaper for a parent to stop working completely, there's clearly a problem that needs solutions. And this is made even more clear by the fact that many other developed countries simply do not suffer from this problem, all while paying their daycare workers a living wage and serving all the kids healthy well-rounded meals.
In the bustling city of Seoul, South Korea, daycare costs are not much of a worry for parents, and the difference in the out-of-pocket price between a daycare in South Korea and America is truly disheartening.
So much so that when a TikTok went viral comparing the two, parents flooded the comment section asking why America just can't seem to get it together when it comes to things like childcare costs, parental leave, and support working parents.
According to the Daycare Council of New York, daycare for a toddler costs roughly $341 a week, which is $16,380 a year.
Before launching into what that costs in a country like Seoul, the TikToker lists out several extra benefits that her son's daycare in Seoul offers that would either not exist in the U.S. or would cost you a pretty penny extra.
"We send him from 9 a.m. to 4 p.m., but it's actually open from 7 a.m. till about 9 p.m.," she begins. "Anything after 6pm is an added cost because it includes another meal."
If a parent wants their child to be involved in any extracurriculars, like an English class or P.E. class, that will cost extra.
"He's given two snacks and one meal a day and daycare also sends him home with loads of thematic toys every week including books, basketball and basketball hoop, and more," she says. "The monthly cost for daycare is ₩364,000 Korean a month." That's about $300 per month.
If she adds in the extra activities and classes, the total per month comes out to 423,500 Korean won, but here's the kicker — the Korean government pays for everything besides the extra add-ons.
"So, we only end up paying 59,500 Korean won which comes out to $46/month [in American dollars]," she says.
Several parents chimed in on the viral video, agreeing that American daycare costs are seen more like a mortgage-sized line item in a budget than a tiny additional cost.
One user joked, "We're in the bad place. WE KNOW."
"I was paying $600 a week for my kids. And they did activities each week thats were extra costing $75-$100 more for activities. Trips were extra too," another mom wrote.
"I'm crying in American," one wrote.
It's important to know the tax rate in South Korea, as in many European countries, is a higher than here, at an average of 35%. Still, in return, citizens get things services like health care and child care support. Huh.
Parents from other countries chimed in that their daycare costs were more in line with Seoul. "I pay like 25$ a month in Germany Bc of lunch…" one user wrote. "…we get kinda payed by having children too every month 😅. We call it Kindergeld."
Remember during the height of the pandemic when the U.S. government was shelling out cash to parents? Imagine getting that every month for no reason except you have kids. Kindergeld is an allowance from the German government to help with the cost of raising children. It can run from €204 to €235 ($225-$275 in the U.S.) per child per month, and is usually made by a fund transfer into a German bank account.
"Canada just passed $10-a-day daycare. America continues its slide downward," a Canadian parent commented.
Last month, Canadian Prime Minister, Justin Trudeau, and the Premier of Newfoundland and Labrador, Andrew Furey, announced that Newfoundland and Labrador families are now benefitting from $10-a-day regulated child care – three years ahead of the national target. With $10-a-day child care, families are now saving an estimated $6,300 per year for each child in care.
According to The Center For American Progress, President Biden's Build Back Better plan could help lower the costs of childcare in the United States.
The Build Back Better Act, which was signed into law in August 2022, includes two investments in early childcare and education: 1) two years of universal preschool and 2) a sliding scale limit on child care costs for families. In 32 states, a typical family would save more than $100 per week on child care.
In March 2023, President Biden called for renewing enhanced child tax credit payments for parents as part of the family policies in his latest budget proposal. Biden's plan calls for raising the current maximum child credit from $2,000 per child to $3,600 per child under age 6 or to $3,000 per child ages 6 and up.