Say It With This TikTok Mom: "It's Fine To Just Serve Snacks Some Days"
Your kid's fed — you're doing great.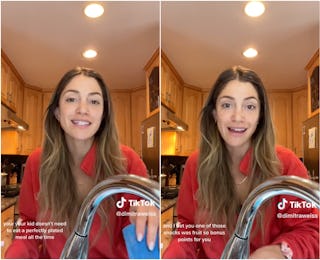 Dimitra Weiss/TikTok
The "feed the kids" struggle is real. Some kids are born with appetites. Some kids like to dissect their food, piecemealing what they want. Some kids are just straight "picky" and won't eat anything. Serving finicky kids and ensuring they get all their valuable nutrients at the same time can be hard AF. Which is why parents need the gentle nudge that one mom, Dimitra Weiss, just dropped on TikTok: "Friendly reminder that three snacks? Same amount of calories as a full meal." As in, if all you can get your kid to eat at any given meal is a plate full of snacks, serve it up, Mama. It counts.
Seems absurd? Think about what you serve your kid or even yourself at dinnertime. Meat (or any protein), vegetables (or fruit), and a whole grain or starch are the OG dinnerplate staples. You can hit those same groups with cheese (protein), apple slices (fruit), and Goldfish crackers (whole grain). So, if your kiddo is only getting two "real meals" and is snacking on multiple snacks a day, keeping in mind what snacks they have and making sure they add up to a semi-balanced meal should be enough to ease your concerns.
Because let's be real, even breakfast can be a challenge when the only thing they want is a waffle — no syrup, butter, or peanut butter! And kids' lunches should be easy. But with a picky kid in the house, every meal can feel impossible. So, as Weiss says, "Let's just call it a kid's charcuterie board and move on."
"Your kid doesn't need to eat a perfectly plated meal all the time, three times a day, every day. Okay?" Weiss follows up in her TikTok post, "Your kid's fed. You're doing a good job. And I bet you one of those snacks was fruit so bonus points for you."
Need snack board or "kid's charcuterie board" ideas for validation? Look no further.
Kids' Snacks With Protein
Kids between ages 2-8 only need between 13-19g of protein daily, according to the Healthy Family Project.
Meat Sticks: Chomps, which seem way healthier than old-school Slim Jims and come in a ton of meats and flavors, have 10g of protein in their pepperoni-flavored turkey stick.
Cheese: One serving/slice of mild cheddar cheese is 5g of protein, and a Sargento string cheese stick is 7g of protein.
Yogurt: One cup of a nonfat fruit variety yogurt is roughly 11g of protein.
Nut Butter: Two tablespoons of sunflower seed butter has 7g of protein, while two tablespoons of peanut butter offer 7g of protein.
Hummus: Two tablespoons have 2g of protein.
In other words, including string cheese on a snack board already gives your kiddo about half the protein they need for a whole day.
Kids' Snacks With Fiber
Kids between the ages of 5-10 need about 10-20g of fiber a day, according to Kids Health.
Pears: According to the Pear Bureau Northwest, a medium-sized pear can offer about 21% of an adult's daily recommended fiber intake — roughly 6g of fiber.)
Peanut Butter: That's right; two birds, one stone with peanut butter. It also contains 2g of fiber.
Banana: A medium banana has 3g of fiber.
Almonds: One ounce of almonds contains 3.5g of fiber. Blue Diamond offers canned almonds in a ton of flavors, with something that ought to appeal to even the pickiest kid.
Hummus: Another "double offender," two tablespoons of hummus has almost 2g of fiber.
Granola Bars: Depending on which one your kiddo likes, you could see anywhere from 2-4g of fiber, or more. And many granola bars, like MadeGood's Chocolate Chip Granola Bars, also offer protein. In this case, 2g.
Kids' Snacks With Calcium
According to The Nourished Child, kids ages 4-8 need 1,000mg of calcium a day.
Yogurt: Depending on the yogurt you buy, there could be anywhere from 100-370mg of calcium.
Cheese: The average slice of cheese is 200mg of calcium, the same as that string cheese.
Bread: Yep. People often make bread seem evil. But there are about 78mg of calcium in a slice of bread. The Calcium Fortified Wonder Bread actually contains 180mg per slice.
Meat Sticks: Around 50g of calcium can be found in many meat sticks.
Kids' Snacks with Carbohydrates
Believe it or not, we all need carbs, too. According to Else Nutrition, toddlers need roughly 150g of carbs per day.
Goldfish Crackers: A pack of crackers has 19g of carbs.
Bread: A slice of bread has 15g of carbs.
Blueberries: There are 11g of total carbs in a cup of fresh blueberries... plus many essential vitamins.
Noodles: There are 43g of carbs in a cup of cooked spaghetti, which your kids probably just call "noodles."
Pretzel Sticks: Two ounces of pretzel sticks has about 50g of carbs.
Carrots: Even baby carrots have carbs! A half a cup offers 6g.
Snack Plate Ideas
What's this look like in practice? Let's mock up some snack plates.
Dips & Dippers: A plate of pretzels and peanut butter paired with carrots and hummus offers your kid at least 56g of carbs, 9g of protein, and 4g of fiber.
Baby Charcuterie: Cheese stick, almonds, Goldfish, blueberries, and pear slices together offer at least 30g carbs, 200g calcium, 9.5g of fiber, and 7g protein.
Stick 'Em Up!: A meat stick, cheese stick, and pretzel sticks alone offer up around 17g of protein, 50g of carbs, and 250g of calcium. Add in a fruit of some sort, and you've added in the very important element of fiber.
And that's not even including your kiddo's drink!