Speaker Mike Johnson Was Porn 'Accountability Partners' With His Teen Son
They used an app to monitor each other's internet use, which sounds 100% completely normal and healthy.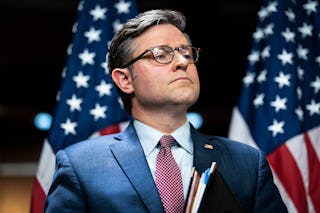 The Washington Post/The Washington Post/Getty Images
Mike Johnson became a household name in October when he became, after a long struggle, the new Speaker of the House. Now we're learning much more about the conservative Republican representative from Louisiana, and some of it is pretty weird and a little bit troubling.
The latest? Internet sleuths have uncovered a video from 2022 that shows Johnson talking about how he and his then-17-year-old son Jack use a content tracking app that tracks their internet usage and makes them porn "accountability partners."
While internet safety for kids is super important, as is talking to your kid openly about pornography, this kind of jumps the internet porn shark.
In the clip, Johnson is speaking at a church on the topic of "The War On Technology." While he says that the internet has a lot of great uses, like Bible apps and broadcasting sermons, there's also a darker side that parents have to protect against.
He then explains that his family uses Covenant Eyes, a subscription-based computer software that tracks everything that you do on the internet, over 10 devices, for about $15 a month.
"Covenant Eyes is the software that we've been using for a long time in our household. I first used about it at a Promise Keepers event in the early 2000s," he says in the video. "It's accountability software, so men in a church, men in Bible studies will do it. But they also mentioned, hey, when your kids become teenagers, especially boys, you can do it with your sons."
The software tracks everything you're doing online and reports your use to another person of your choosing.
"What it does real quickly is that it has an algorithm and software, and a list of keywords, and it scans all the activity on your phone or your devices, your laptop, tablet, what have you, and then it sends a report to your accountability partner," he goes on in the video. "My accountability partner right now is Jack, my son. He's 17. We get a report on our devices once a week. If anything objectionable comes up, your accountability partner gets an immediate notice. I'm proud to tell you my son has got a clean slate. It's really sensitive, it'll pick up almost anything, it looks for keywords, search terms, and also images, and it will send your accountability partner a blurred picture of the image."
Okay, sorry, but that seems weird, not to mention a bad idea.
Johnson also promoted the software on his Facebook page in 2020. It's not clear if Johnson still uses the service — or whether the AI software has been installed on any government devices. It's also not clear if Johnson was paid for these promotions.
"In our house, when you get a smartphone, it comes with this requirement, and it has worked very well for us," he wrote.
Johnson was elected to Congress in 2016 (yes, that memorable election night) and has since voted in line with Christian conservatives, being outspoken especially on social issues like women's rights, queer rights, and trans rights.
Experts also say that Johnson shouldn't be using the software, even if it had nothing to do with how appropriate it is to be porn accountability buddies with his teen son.
Michael Coates, the head of security at Mozilla, told Insider that an app that tracks your internet use like Covenant Eye is a bad idea for anyone.
"This is essentially a modern-day wiretap program built and developed by a private corporation that is installed on his personal laptop — and we can imagine his personal phone — capturing essentially everything that may be happening on his device," he said.
The software is also very easy to get around: Josh Duggar infamously was using the same app (with his wife as his accountability partner) when he was found with large volumes of child pornography.
So, if you really did want to be porn accountability partners with someone, this option would be a risk to your privacy as well as ineffective for teens with any sort of technical understanding.
There are way better and healthier ways of talking to your kids about pornography and pornography use.