What NOT To Get Teachers For End-Of-Year Gifts (& What To Get Them Instead)
We asked our readers for the best (and worst) gift ideas to show our teachers much-deserved appreciation.
by Sarah Bourassa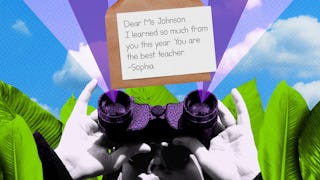 Emma Chao/Scary Mommy; Getty Images
Being a teacher is one of the most important jobs in the world, but it's far from easy and can feel thankless at times. While giving a gift at the end of the school year isn't required, it's a nice way to tell teachers THANK YOU for being there for our kids every day. We asked our readers on Facebook for their suggestions on what — and what not — to give.
The most common response? Skip on gifting mugs. (Most teachers don't need more "Best Teacher" swag.) Instead, opt for gift cards (even just $5) and/or a thoughtful note. (Several teachers mentioned they still look back at handmade cards from their students years later.)
Read on for more gift recommendations from parents and teachers:
What NOT To Get
"Mugs. I've accumulated so many freaking mugs in teaching years. We just had a batch go to a thrift store, and we still have more in our cabinets!" - Alexa Marie
"Usually no food unless you know them and it's something that they like." - Christine Volbrecht Wise
"Don't buy them supplies as gifts. If they need supplies, buy that separately. The supplies are for the kids." - Tiffany Price
"Please no alcohol. Not all teachers drink!" - Beth Marie
"No gift certificates to local places unless you know that the teacher lives in the town." - Siobhan Wiatr
"They do not need more 'World's Best Teacher' items." - Shanese I. Johnson
"I would avoid bath products and candles. Scents are very much a personal preference." - Kristen Martin
"Nothing that says 'Teachers touch hearts and change the world' etc. I have so many tea towels with that sentiment, and it's very sweet but also not how I want to decorate my home." - Marie Lister
What To Get Instead
"I'm a teacher and truly the best gifts are heartfelt notes from the kids. When they include a memory or something they learned, it just reminds you why you do what you do." - Kelly Gill Loeffler
"I used to think it was impersonal until my teacher friends told me it was the most 'personal' gift they could get: cash. They can spend it everywhere and get whatever they need/want." - Monica Strye Foley
"I used to deliver a special lunch during teacher appreciation week to my kids' teachers. They loved it. I'd drop off a menu and then place the order and deliver!" - Brandie Lumpkin Schwartz
"This is going to sound weird but pencils. My students never return them, and I'm always out. Other school supplies are great too." - Jessica Catania
"I bought a session with a local photographer for my daughter's teacher and her family." - Jess McCloskey
"I give my teachers wine gift cards for a bottle of their choice to start the summer with. I know how my kids act…I know that they need it after 10 months with them." - Sam Jones
"As a former teacher, I can honestly say that no gift was ever unappreciated or unused. In fact, I often photograph myself using a gift and send to the student years later via messenger. I remember the student when I use the item, and I love that!" - Cindy Hogentogler
"Best present I ever received from a parent was a nice quality beach towel and sunblock." - Jennifer Pinto Finney
"I'm a big fan of the 'These Are a Few of My Favorite Things' list. Printable from Pinterest. My kiddos PTA does this and publishes it on their website. It's been incredibly useful." - Jennifer Ruble-Darnton
"My best gift of 36 years of teaching was a jar with 100 slips of paper. Each slip had something written on it about funny things that happened in class, what the student liked about our class, or about me. I still have it." - Jana Bean Wilson
"I made a teacher emergency snack box. Popcorn, nuts, candy, protein bars, chips, crackers, gum, cookies. All my kids' teachers say it's their favorite gift." - Roxie Lynn
"I once got beautiful gift wrapping paper, bows, ribbons…Best gift I ever got and super useful too. It honestly lasted me the whole year." - Kerry Leigh de Jager
"I knew the teacher loved getting new recipes, so I gathered each of the students' favorite recipes from their families and put into a recipe book." - Jen Winningham
"The best gift is a kind and flattering email to the principal. CC the teacher. We just want to feel appreciated and like we're doing a good job/making a difference. Words of affirmation don't cost a thing. " - Courtney Mundt Atkins
"I've had a few pieces of clothing or accessories picked out for me by my kiddos, such as shirts, necklaces, or earrings. The kids have a way of just knowing what you love and finding something perfect." - Sarah Lammie
"I'm moving overseas. One of my elementary students gave me a card that said, 'Will you be my pen pal?' I said yes. Then she handed me a beautiful stationery set and her address. I cried. BEST.GIFT.EVER!" - Esther Munguia
"Last year I did a food bank donation on their behalf." - Sarah Somerville
"I always buy with this question in mind: Would this teacher need 25-30 of the exact same gift? I usually stick with gift cards, coffee, and wine!" - Molly Anderson
"Forget the 'gifts.' None of that matters. Get some good quality stationery and write them a heartfelt thank-you note. I would save any positive notes of thanks I received and keep them in a file. They were a reminder that I made a difference." - Steve Maciejewski
Responses have been lightly edited for clarity.
Social image courtesy of Kate DeFrancesca Giska