A Teacher Played The Smashing Pumpkins For His Sixth Graders & The Responses Are Hilarious
"Cringe, weird words, old."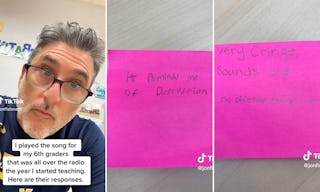 @jonfishman8 / TikTok
Many of us have pleasant memories of listening to "1979" by The Smashing Pumpkins as we rode in cars with our friends with the windows down, got over our first break-up, or danced at prom during the mid-90s. But it's important to understand that we are all now as old as hell.
If you don't believe it, try playing the song for your kids or, better, yet, let sixth grade teacher Jon Fishman do the job for you. He has a fun (or, well, it's supposed to be fun) TikTok channel in which he plays nostalgic tune for his students, who then react to the tunes on Post-It notes.
The results are sobering, and say a lot about both generations.
So, what did his kids have to say about "1979"? Many of the comments were... unkind.
"It reminds me of depression," one kid simply wrote.
"Cringe, weird words, old," another said succinctly.
"I can't understand what it's saying. Very emo."
"Nothing to do with smashing pumpkins."
"It's not autotuned." Well, fair enough.
A few precious keepers had nicer things to say about the song — either that or they were trying to score brownie points.
"It's not the best, but I could listen to it. Very chill."
"Nice rhythm, good beat."
"It is the bestest song in the world my mommy and daddy listen to it." (Not sure if this one is sarcastic?)
"It's giving summer and cool kids."
"It reminds me of a song you'd listen to right after school's out," one kid writes — and thank goodness someone got the exact vibe right.
To give all of this some context, "1979" was released in 1996, also known as 27 years ago. So, this would be like if your sixth grade teacher in 1995 played you "Sugar Sugar" by The Archies or "Come Together" by The Beatles and asked how hip it was (spoiler: we'd probably say it was no where as good as The Verve Pipe).
This isn't the first time that Mr. Fishman has played old songs for his kids. In past reels, he's spun "Heart of Glass" by Blondie, "How Soon Is Now?" by The Smiths, "Soul To Squeeze" by Red Hot Chili Peppers, and "Intergalactic" by the Beastie Boys.
Reviews were mixed of those, but they kind of liked Blondie and The Smiths.
Down in the comments, readers are making requests for what he should play for them next, including Weezer, Primus, Billy Idol, Gwen Stefani, and Nirvana. Um, I think kids listen to Nirvana today like we used to listen to Led Zeppelin: they are all very familiar.
Although one commenter summed up everything: "It is definitely the Children who are wrong!"